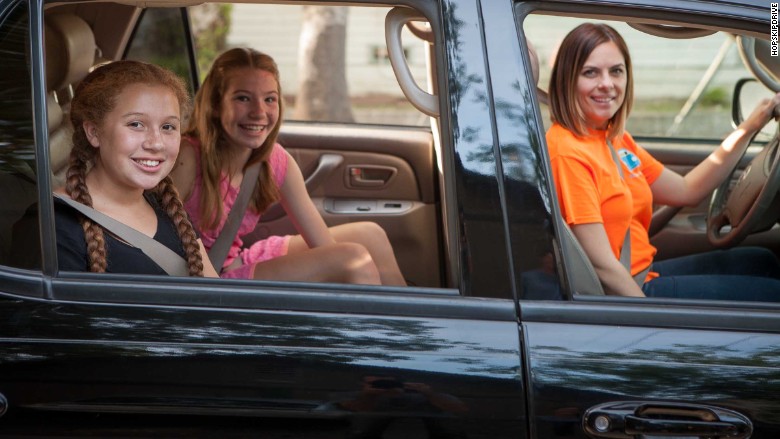 HopSkipDrive wants to put its kid-friendly ride service in front of more families.
The startup announced $10.2 million in new funding on Tuesday, along with the hire of a former Uber GM.
HopSkipDrive, founded in 2014 by three working moms, is one of several startups that is laser-focused on transporting the most precious cargo of all: kids.
Parents can schedule rides for their kids, ages 7 to 17, up to two weeks in advance -- or with just eight hours notice.
Whereas competitor Shuddle is servicing San Francisco, HopSkipDrive is tackling Southern California first. It has 500 drivers as part of its network, all have undergone a 15-point certification process, including fingerprinting, vehicle inspections, monthly DMV checks, reference and social security checks.
The drivers are all contract workers -- and 99% are women. Many work as nannies or are stay-at-home moms in addition to driving. They're don't just drop off and pick up kids, they also escort them into school or an event.
According to cofounder Joanna McFarland, many use the service as an "alternative to a babysitter." The service charges $20 per ride, but parents can save money by purchasing rides in packs.
HopSkipDrive doesn't even require that kids have a cellphone: Kids can say a passcode (like "Pokémon") to the driver to ensure they're hopping into the right vehicle.
Related: Are families the elephant in the workplace?
HopSkipDrive, which raised $3.9 million in July, declined to share specifics on its expansion plans but said it would be in more markets this year.
Eyal Gutentag will be a key figure in the company's expansion.
Formerly Uber's GM of Los Angeles, he joined HopSkipDrive as chief operations officer in November. One of the reasons he was interested in joining the startup? He's a dad of two.
While his children aren't yet old enough to use the service (they're one and three), he said he's "excited" for the day they are.
Related: Startup founder: U.S. is terrible at caring for the elderly
Gutentag sees a big differentiation between services like Uber and Lyft and that of HopSkipDrive: "We are caregivers on wheels," he said.
Children under 18 aren't permitted to use services like Lyft and Uber unless accompanied by an adult. Many families aren't "100% aware of" this fact, said Gutentag.
He added that he's excited to be working with a young company that has a lot of potential.
"I can help play a meaningful role in defining its growth trajectory," said Gutentag, who said Uber already had around 1,000 employees when he joined in 2014. (HopSkipDrive, meanwhile, has just under 50 employees.)
Building a successful carpooling network for kids means that safety and reliability must stay top of mind.
"It's high stake. If Uber cancels on you, it's annoying. But we cannot leave a kid stranded," said McFarland.