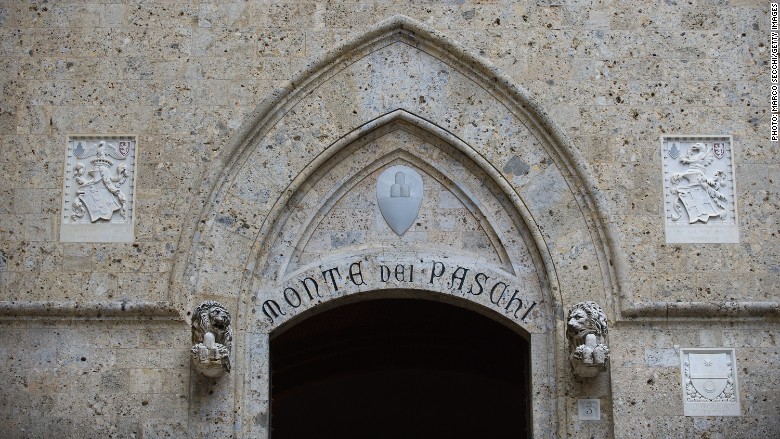 Italian banks have just been thrown a lifeline that could help the country's ailing economy turn a corner.
Italy has agreed a plan with European officials to relieve the Italian banking sector of as much as 200 billion euros ($217 billion) in bad debts.
The eurozone's third biggest economy was hard hit by the region's debt crisis, and plunged into three years of recession that lasted until 2014.
Many loans turned sour during that period. Italy was left with one of the highest levels of bad debt in Europe.
Monte Dei Paschi -- the world's oldest bank -- is at the center of the problem, with up to 40% of its loans gone bad.
Italy returned to growth last year, but the non-performing loans are still holding back the banks and crimping their ability to lend to business and households.
Shares in some of the banks have plummeted this year: UniCredit Group (UNCFF) is down 23.8% this month, UBI Banca has lost 23%, and Intesa Sanpaolo is 13% lower. The stocks started edging higher after the agreement was struck late on Tuesday.
The European Commission has given the Italian government the green light to isolate the non-performing loans from the rest of the banking system by parking them with separate entities -- sometimes known as 'bad banks.'
The banks can then buy state guarantees for the loans at market prices, which should make it easier for them to be sold to specialist investors. That in turn should free up capital and allow the banks to boost lending to the economy.
Related: Mario Draghi calms markets with hint of more money
Italian GDP is still smaller than it was before the global financial crisis. It grew just 0.8% in 2015.
The pace of growth is expected to pick up in 2016, but the country is struggling with unemployment at about 12%, the third highest level of government debt in the developed world, a rapidly aging population, and an influx of refugees.
The 'bad bank' plan is not a new idea -- similar schemes were devised by governments around the world following the financial meltdown in 2008.
But Italy had struggled to come up with a plan that would satisfy European competition rules that set strict conditions on the provision of state aid to banks and companies.
In recent years, Europe has introduced new rules on bank bailouts that allow governments to use taxpayers' money only if investors share some of the pain too.