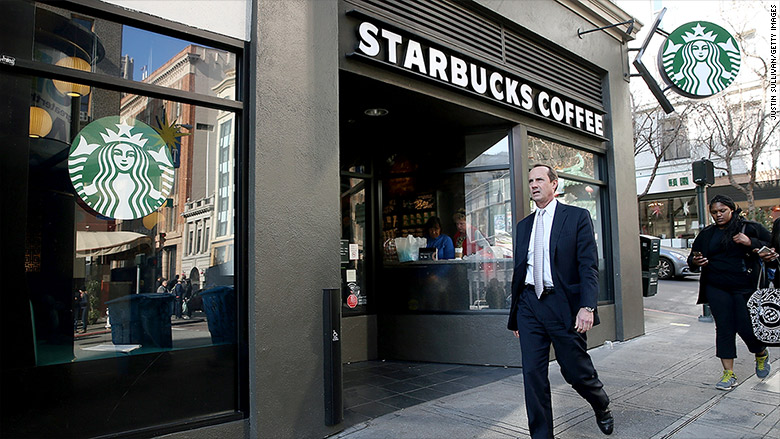 The commodity crash is coming to your local cafe.
But don't expect to save any money.
Prices for coffee beans are at their lowest point in nearly two years. A pound of arabica coffee -- the type Starbucks buys and serves to customers -- has fallen to around $1.11 from $1.65 a year ago. That's a 33% drop.
Officials in Brazil forecast that coffee farmers will have a huge harvest season this year, creating an oversupply of beans, which has led to the drop in prices . But no one expects latte prices to come down.
"You'll never really see anyone cut menu prices," says Peter Saleh, an analyst at research firm BTIG, who covers Starbucks.
Why?
"You're seeing a pretty big rise in wages, which is the other component of making your coffee," Saleh pointed out.
He has a point. States and cities across the country have been increasing the minimum wage. That affects all stores -- from your local coffee shop to the McDonald's (MCD) and Starbucks of the world.
However, it's worth remembering that in 2014, when coffee bean prices were rising, Starbucks (SBUX), Dunkin Donuts (DUNK) and other coffee brewers raised menu prices, citing the increasing cost of the commodity.
But now the reverse is not true.
Related: Starbucks adding 1,400 new stores in China
In fact, Starbucks slightly raised its menu prices last July even as coffee bean prices were falling. It cited rising costs.
True, minimum wages are rising. And rents have also been going up in many markets, at least for Starbucks, Saleh said. Starbucks has also begun to pay college tuition for 4,000 of its employees.
Those additional costs offset any gains Starbucks may get from the coffee bean price collapse.
Analysts say coffee beans only make up about 20% of Starbucks' overall costs.
Related: Starbucks new latte macchiato
Starbucks says its menu prices depend on a variety of factors and a spokesperson declined to discuss future menu prices, citing competitive reasons.
A Dunkin Donuts spokesperson says the company offers price recommendations to its independent franchisees but ultimately they choose what they charge at each individual store.
Hope isn't all lost. At least not for people who buy their coffee at the supermarket.
Last year, J.M. Smucker cut prices by 6% for Folgers and Dunkin Donuts coffee sold at grocery stores. Starbucks could do the same for its store-sold coffee, says R.J. Hottovy, an analyst at Morningstar.
But you can continue to expect Starbucks cafes to charge those higher prices.
Why? Because it can.
"Starbucks is able to charge those prices...[because] consumers are wiling to pay for it," says Hottovy.
-- Full disclosure: the reporter for this story owns one share of Starbucks