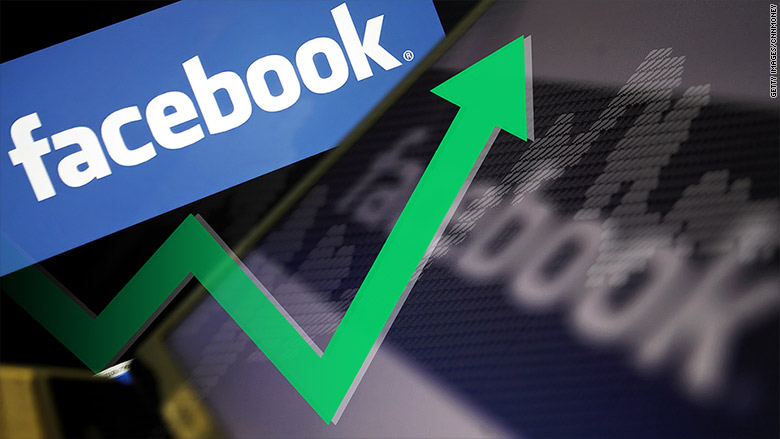 Facebook's startup days may be long gone, but no one can accuse the company of resting on its laurels.
Facebook impressed Wall Street with its latest earnings report on Wednesday, sending shares up more than 8% after hours.
The company handily beat expectations on several key metrics, including growth of new users, sales and profit.
During the last three months of 2015, Facebook brought in $5.8 billion -- growth of 52%. But it made $1.6 billion in profit -- a whopping 123% increase from a year earlier. Mobile ad revenue also saw a big jump -- it now makes up 80% of total advertising revenue, up from 69% a year earlier.
For the year, Facebook (FB) reported sales of $17.9 billion, a 44% increase, and $3.7 billion in total profits.
Where did the growth come from? Well, not only has Facebook managed to keep adding new people to its network (there are now 1.59 billion people who use the site each month), it's actually making more money off each user at the same time.
Related: Mark Zuckerberg says there's nothing to fear from AI
In the United States and Canada, the amount that Facebook makes per person saw a 50% increase (from $9 to more than $13 per user) versus the same period in 2014. That's compared to a 42% increase in the third quarter.
Globally, the amount that the company makes per person has grown 33%, compared to a 24% increase last quarter.
The numbers will probably help justify all of the changes that Facebook has made to its platform last year -- including the introduction of live video and collages, more tailored notifications, the ability to hide from an ex's posts and a more powerful search tool.
The new features don't just keep people on the site for longer, they help Facebook learn more about its users. As a result, the company has been able use advertising to target people much more effectively.
Related: Apple posts record profit but iPhone growth is slowing
During a call with investors, CEO Mark Zuckerberg gave very little new information on what to expect this year.
He reiterated his commitment to connect the world through Internet.org, and optimism for virtual reality and Oculus Rift.
"The launch is an important step toward the future," he said, referring to the Oculus Rift headset, which went on sale earlier this month.
When asked if he was happy about initial pre-order sales, Zuckerberg responded emphatically, "Yes I am happy. I don't show much joy, but I'm happy." He declined to give specifics on how many units were sold.
Because 2015 was such a stellar year for Facebook, CFO David Wehner warned that it would be hard to match the success in 2016. Uncertain global economic conditions and currency rate fluctuations are big factors, he said. 2016 will also be "another significant investment year for Facebook," with expenses expected to grow by 30% to 40%.