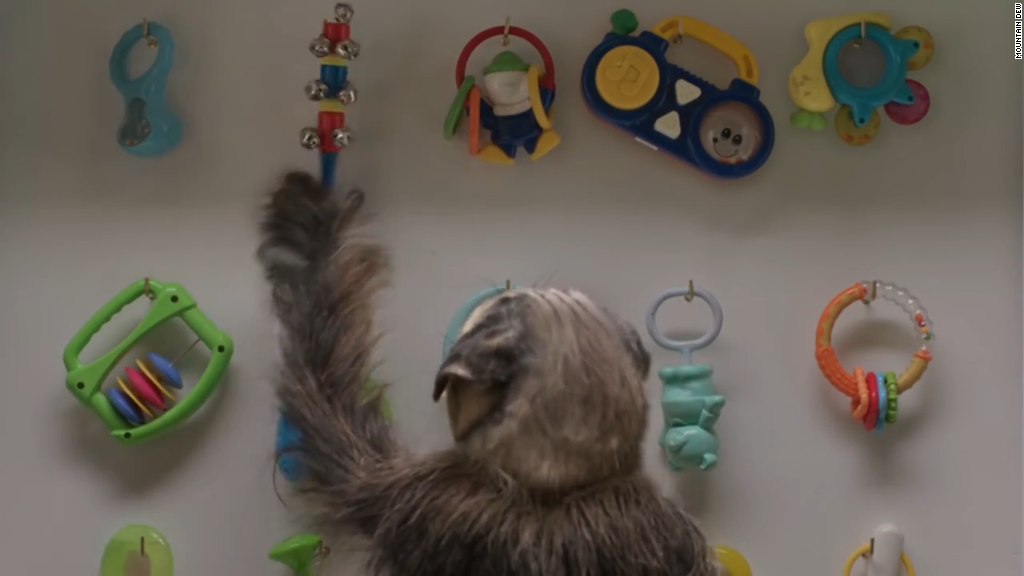 Mountain Dew uncorked a couple of teasers for its first Super Bowl ad in 16 years - and it could be the weirdest Super Bowl ad ever.
The company tweeted brief videos of a monkey-like creature with the paws of E.T., the schnoz of a Koala bear and the tail of a horse.
The teasers give a partial glimpse of this bizarre creature as it tentatively fingers squeaky toys and masquerades as a human baby by taking a seat in a high chair.
What is this weird animal, and what is it doing? Mountain Dew, that famously green brand of rocketfuel soda from PepsiCo (PEP), won't reveal its true nature until Super Bowl 50, which airs on Feb. 7.
Related: Super Bowl tickets heading for a record
That was Mountain Dew's first Super Bowl appearance since 2000, when it aired an altered version of Queen's "Bohemian Rhapsody" with Dew-centric lyrics.
Advertising during the game has never been more expensive. CBS (CBS) is charging a record-breaking average of $5 million for 30-second spots.
Last year, Mountain Dew advertised before the kickoff, which is less expensive. The pregame spot featured over-caffeinated, high-strung millennials drinking Kickstart and then dancing with animated versions of everyday inanimate objects, including a lamp, a taxidermied deer and an aquarium figure of a deep sea diver. On Youtube, this Mountain Dew spot features some goofy Easter Eggs that make the different gewgaws sing and gyrate.