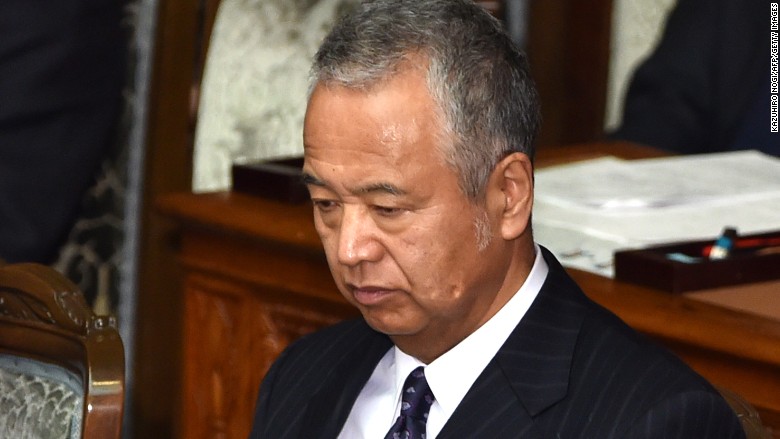 Japan's economy minister, Akira Amari, said Thursday that he will resign amid bribery allegations that came to light last week.
A tearful Amari announced that he would resign to take responsibility for the accusations and to ensure government operations continue smoothly.
Nobuteru Ishihara, a top politician of the governing Liberal Democratic Party, will succeed Amari.
Last week, a Japanese magazine reported that Amari and his staff took money from a construction company, allegedly violating political funding laws. The report said he didn't disclose payments totaling at least 12 million yen ($101,000).
On Thursday, Amari admitted that he accepted money, but said his actions were still by the book. After an investigation, he found his secretary separately received cash from the same company, and used some of the funds for private purposes, Amari said.
Related: Japan's 'Abenomics' experiment is on the rocks
Amari, a key architect of Japan's economic policies, is the most high profile cabinet member to step down since Prime Minister Shinzo Abe took office late 2012. Amari also represented Japan in major trade talks in the Trans-Pacific Partnership deal.
His resignation deals yet another blow to Abe, who has championed an economic reform plan, dubbed "Abenomics." The measures were meant to bolster the world's third-largest economy, which has dipped in and out of recession.
Abe's previous stint in power, in 2007, unraveled after a number of high-profile resignations.