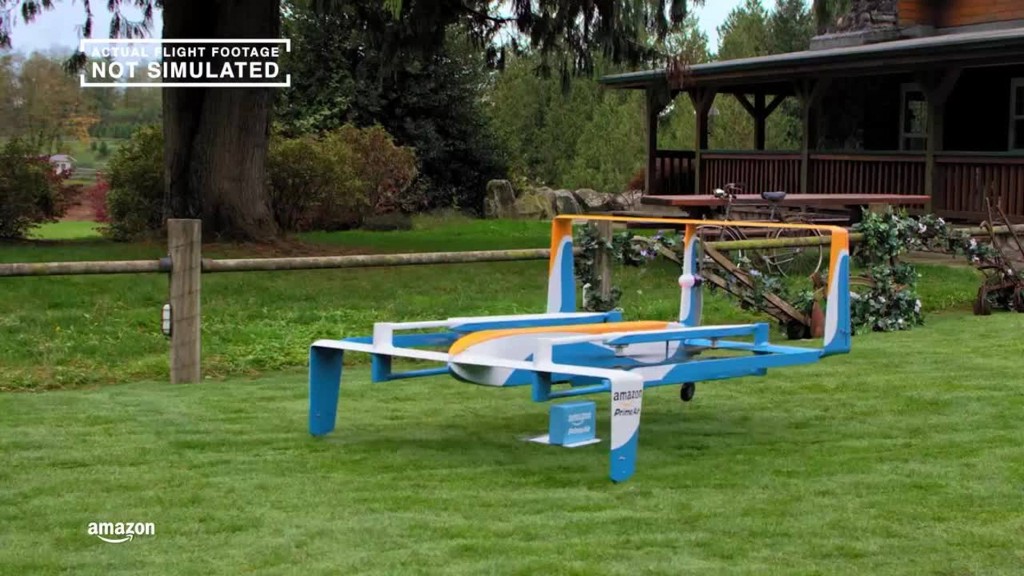 Amazon bucked the sinking retail trend, but not by enough to satisfy investors.
Shares fell as much as 13% in after-hours trading, after Amazon's profit badly missed Wall Street analysts' forecasts.
That's despite a stark contrast between Amazon and its competitors.
Amazon (AMZN) posted record profit last quarter, after posting double-digit sales growth over the previous year. Growth at traditional retailers during the holiday quarter was virtually nonexistent. Walmart (WMT), Macy's (M) and others are closing stores and laying off employees.
Part of Amazon's retail success has been driven by its successful Prime membership program. Prime memberships grew by 51% last year, Amazon said, and a Consumer Intelligence Research Partners study recently revealed that just under half of all U.S. households subscribe to Prime.
That's important, because the company says drives sales and keeps customers returning to the site.
For example, Amazon said Prime members doubled the number of hours they spent streaming videos on Amazon's Prime Instant Video service over the past year. Streaming on Amazon's Prime Music more than tripled over last year. And its same-day shipping service Prime Now expanded to 25 different cities.
Amazon has shocked investors over the past couple quarters by declaring surprise profits, driven by its booming Amazon Web Services cloud business.
Despite all of those successes, Amazon failed to produce the kind of profit that investors had hoped for this past quarter.
Profit
Fourth quarter of 2014: $214 million
Fourth quarter of 2015: $482 million, up 125%
Amazon's profit during the last three months of 2015 was a quarterly record for the company. Amazon's previous quarterly profit record was set in the final three months of 2010.
2015 was in the black as a whole, the first time in years that Amazon has recorded an annual profit. Still, Wall Street analysts believed Amazon's fourth-quarter earnings would be nearly twice what it turned out to be.
Sales
2014: $29.3 billion
2015: $35.7 billion, up 22%
Amazon recorded its highest quarterly revenue of all time.
Retail
2014: $20.6 billion
2015: $25.8 billion, up 25%
The biggest part of Amazon remains its retail business, and it has been growing at a startup-like pace. Analysts expect that to continue.
Amazon's Echo gadget alone is poised to become a billion-dollar business soon, according to ChannelAdvisor.
Amazon Web Services
2014: $1.4 billion
2015: $2.4 billion, up 71%
Amazon Web Services hosts companies' online content and apps in Amazon's giant data centers. It has big-name customers, including Netflix (NFLX), Airbnb, Yelp (YELP), Expedia (EXPE), Major League Baseball and Slack.
AWS' electric growth helped bring Amazon into the black over the past couple of quarters. CEO Jeff Bezos has predicted that cloud sales will one day surpass Amazon's retail revenue.
On a conference call with investors, Amazon's CFO Brian Olsavsky acknowledged that AWS isn't growing as fast as it used to. But he noted that it's close to a $10 billion-a-year business and said he remained optimistic that it would continue to grow strong.
Media
2014: $7 billion
2015: $7.3 billion, up 4%
Sales of books and music grew, albeit by a much smaller amount than Amazon's retail business.
The media segment does not include Amazon Prime Instant Video sales, about which the company remains secretive.
Shipping costs
2014: $1.3 billion, 4.6% of sales
2015: $1.8 billion, 5.5% of sales
Amazon's net shipping losses exceeded $1 billion for the second straight quarter and surpassed last year's total. That's why investors will have a close eye on anything Amazon announces about drone delivery, building its own logistics business and other attempts to control delivery costs.
Olsavsky said Amazon's trucks, drones and investments in delivery systems are meant to supplement its existing shipping partners like FedEx, UPS and the Postal Service, rather than replace them.
"They're just not able to handle all the deliveries our customers are demanding on their own," Olsavasky said.