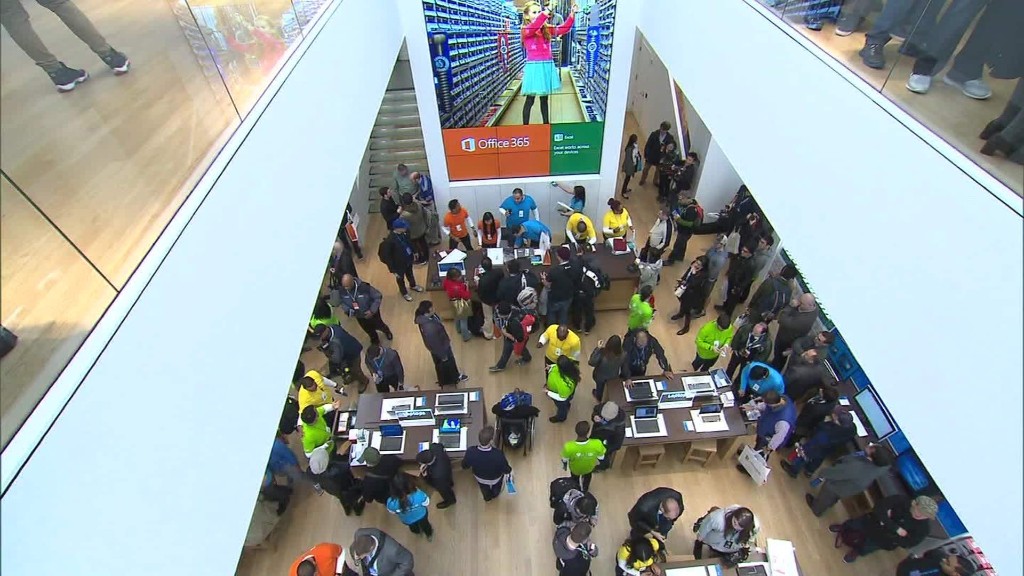 Microsoft's cloud business is booming at a perfect time.
PC sales are seriously dreadful, falling 8.3% in the last quarter of 2015, according to Gartner. Normally, you'd think that would be horrible news for a company that makes the world's leading PC operating system.
But Microsoft (MSFT) was buoyed by its surging cloud business, which is giving cloud leader Amazon (AMZN) a serious run for its money.
Windows sales slumped. Phone sales tanked.
And worst of all, the super-strong dollar made its products expensive around the globe.
Yet Microsoft had a pretty decent quarter, all things considered. Shares were up 4% in after-hours trading.
Sales
Final quarter of 2014: $26.1 billion
Final quarter of 2015: $25.7, down 2%
Microsoft's sales beat Wall Street's expectations. And they would have been up 3% if not for the strengthening dollar, Microsoft claims.
(For those scoring at home, Microsoft's sales figures include $1.9 billion revenue that it has deferred for accounting purposes, related to sales of Windows 10 and Halo 5).
Profit
2014: $5.8 billion
2015: $6.3 billion, up 8%
Microsoft's adjusted profit (including deferrals), soared, thanks in large part to growing cloud sales.
Windows
2014: Sales down 13%
2015: Sales down 5%
There weren't a lot of PCs stuffing stockings during the holidays. Yet Windows fared better than the overall PC business.
Windows 10 has been a runaway success, installed on more than 200 million devices so far. But Microsoft has been giving it away as a free update. That has helped boost downloads while doing little to drive PC sales.
Office 365
2014: 9.2 million subscribers
2015: 20.6 million subscribers, up 124%
Office 365 has been a runaway success. The Office subscription service asks customers to pay Microsoft an annual fee to get constant Office updates, rather than buy new versions of Office every few years.
Cloud
2014: $6 billion
2015: $6.3 billion, up 5%
Microsoft's fastest growing business is helping offset ongoing weakness in Windows sales. With its cloud business, Microsoft is hosting companies' content, websites and apps on its own massive data centers.
Surface
2014: $1.1 billion
2015: $1.4 billion, up 29%
Surface has become a huge hit after struggling mightily in its past iterations. Microsoft released its high-end Surface Book last quarter to compete with the MacBook Pro.