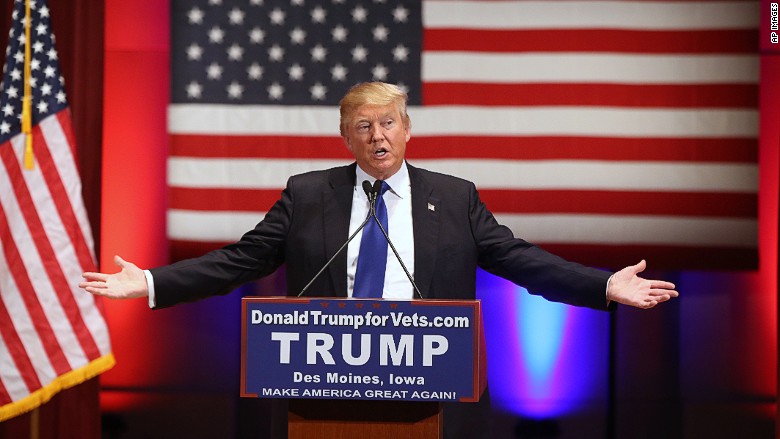 Fox News was poised to rule television on Thursday night with the Republican presidential debate. Instead, the cable news channel was forced to share the spotlight.
Defying both Fox and political conventions, Donald Trump followed through on his commitment to skip the GOP debate.
Appearing at his own event in Des Moines, Iowa, Trump said that he couldn't walk back his decision to skip the debate, despite what he said was a last minute plea by Fox to join the debate.
"Fox has been extremely nice for the last number of hours actually. And they've wanted me there," he said at the beginning of the fundraiser for veterans. "They called a few minutes ago. 'How about now? Can you come over?' And I said, 'Hasn't it already started?'"
Related: Fox says Donald Trump isn't telling the truth about its debate ads
Before the event, Trump told CNN's Brianna Keilar that Fox News apologized to him for a snarky comment issued by the channel earlier this week. In a statement Thursday night, Fox News said that its chairman, Roger Ailes, "had three brief conversations" with Trump on Thursday "about possibly appearing at the debate." Trump, the statement said, "offered to appear at the debate upon the condition that Fox News contribute $5 million to his charities."
Fox even had a podium ready for Trump in case he decided to show up. Instead, Trump went ahead with his own fundraiser.
"Look at all the cameras," he said. "It's like the Academy Awards."
The hastily arranged fundraiser, held about 2.5 miles away from the GOP debate, created a media spectacle that left some television viewers flipping back and forth between the two political events.
But it's not clear that Trump succeeded in upstaging the debate. CNN and MSNBC both showed the event when Trump began, but cut away while he was still speaking. A number of other news outlets provided live streams of the full event.
Ratings for the debate will be available Friday, but it will be hard to measure Trump's audience, since it was so spread out.
Google data gave Fox the upper hand: Search interest for "debate live stream" was 170% higher than searches for "Trump live stream" on Thursday night.
On Fox News, Trump's absence was addressed at the outset.
Fox News anchor Megyn Kelly, a co-moderator at the debate and one of Trump's chief nemeses, began by asking Ted Cruz to address "the elephant not in the room tonight."
"I'm a maniac, and everyone on this stage is stupid, fat and ugly," Cruz replied. "Now that we've gotten the Donald Trump portion out of the way."
Jeb Bush, Trump's favorite punching bag on the campaign trail, joked that he missed the outspoken billionaire.
"He was a little teddy bear to me," Bush said.
But then Fox moved on to other topics -- and its post-debate coverage downplayed Trump's absence.