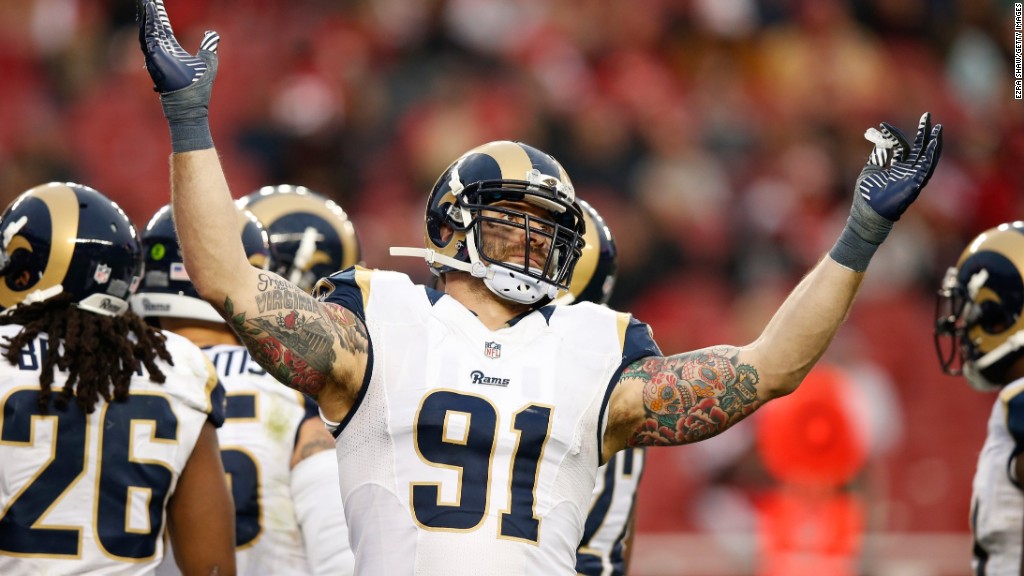 The Oakland Raiders, who lost out on their attempt to move to Los Angeles, are now eyeing a possible move to Las Vegas.
The Las Vegas Sands Corp., owner of the three casinos in Vegas, is reportedly looking at joining with the University of Nevada Las Vegas and other developers to build a 65,000-seat, $1 billion domed football stadium near the airport in Vegas.
Neither the Sands nor the Raiders responded to a request for comment.
The Raiders had hoped to move to a new Los Angeles-area stadium, but lost to a competing proposal from the St. Louis Rams. The Raiders have not been able reach a deal for a new stadium in Oakland to replace their city-owned home, one of the oldest and least attractive in the league.
But it's unlikely the league would approve a move to Vegas, according to experts.
First of all, the NFL has always been very concerned about any appearance of accepting gambling on games, even though gambling on football plays a major role in the sports' overwhelming popularity. In 2003 the league even blocked the Las Vegas Convention and Visitors Authority from advertising on the Super Bowl.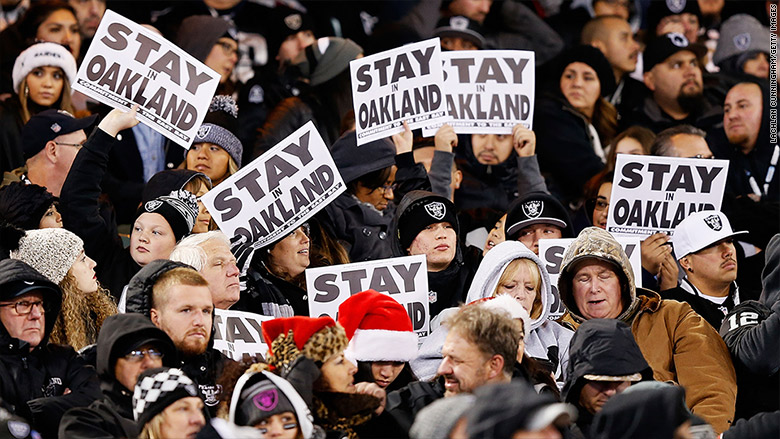 If a team did move to Vegas, the numerous casinos there would be eager to buy up luxury boxes for their high roller clients.
While revenues from the luxury boxes would make Vegas an attractive market for the Raiders' owners, that money wouldn't be included in the league's extensive revenue sharing. So there's little incentive for the other owners to approve a move to Vegas.
Las Vegas isn't that big of a television market. The NFL has some teams in markets which are even smaller than Vegas, such as Jacksonville, Florida. But the league's broadcast money comes from its national TV deals, and there's little a move to Nevada will do to lift the national audience.
"Vegas might be good for the MLB, NBA or NHL, where the ratings for a regional sports network is a factor," said Marc Ganis, a sports marketing expert who has worked on team moves in the past. "But it's not that fabulous of a market for the NFL." Ganis thinks the NHL will be the first major sports league to put a team in Vegas.
"I wouldn't say the NFL will never go to Vegas. But I don't see it being reading to do so now or in the near future," said Ganis.
Related: Cam Newton may beat Peyton Manning on and off the field
Still, don't be surprised if Vegas moves ahead with a stadium, even without the Raiders.
"We are moving forward with the stadium concept with or without an NFL team," Andy Abboud, a senior vice president of Las Vegas Sands, told the Las Vegas Review-Journal on Thursday.
Abboud told the paper there are a lot of events that could be held at such a stadium, including college bowl games, neutral site games between NFL teams, concerts as well as other sports like boxing or soccer.
"Nothing will move that needle like a new world-class stadium," Abboud said.
Related: Super Bowl tickets heading for a record
The NFL did not respond to a request for comment on the Raiders' reported interest in Vegas.