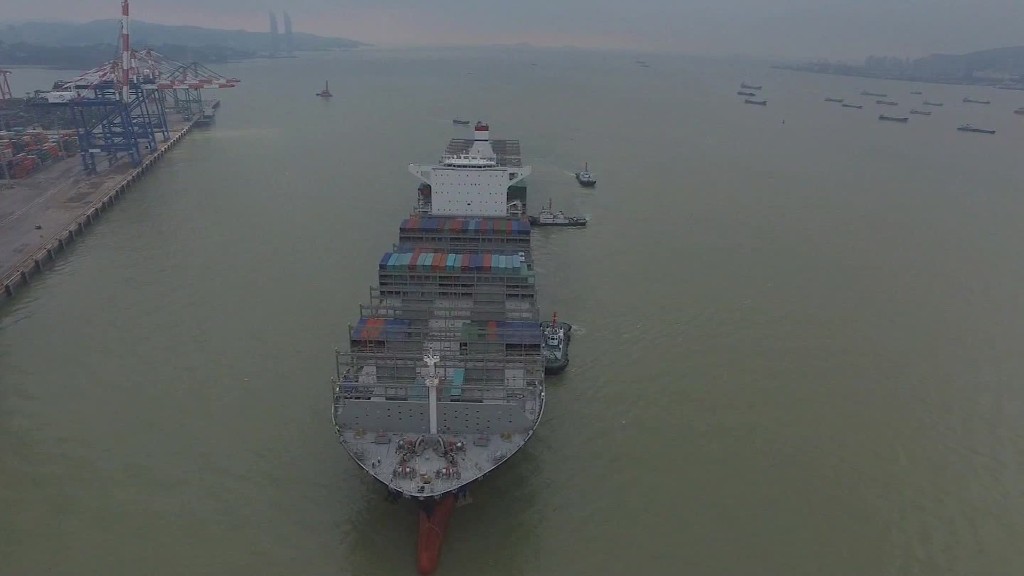 Shortly after 4 a.m., the Benjamin Franklin starts to pull away from port in Xiamen, southeastern China, en route to Los Angeles.
At just over 398 meters (435 yards) long, it's one of the biggest vessels in the world. Standing on its end, it would dwarf the Eiffel Tower.
It's also the biggest container ship ever to dock in a U.S. port.
Built in Shanghai for the French shipping company CMA CGM, the vessel is one of a new generation of mega ships that can carry a staggering 18,000 containers on board.
"In the shipping industry, size matters," says Ludovic Renou, the general manager for CMA CGM in southern China.
The port in Los Angeles has been modified to accommodate the Benjamin Franklin ahead of its expected arrival later this month.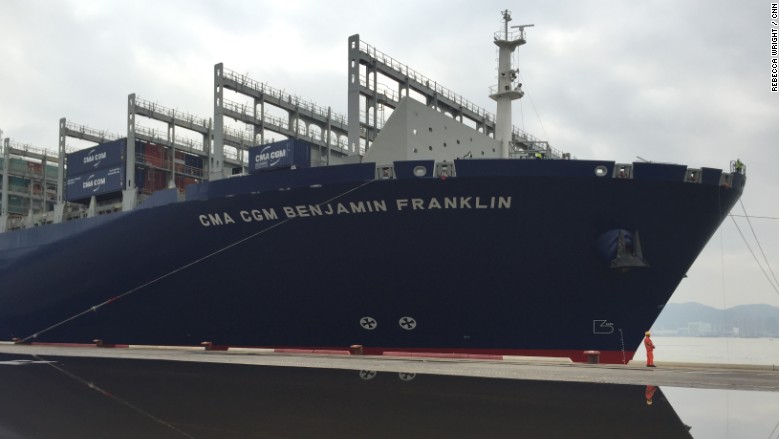 Related: China factories continue to lose steam
But the infrastructure is still not ready to bring in the colossal ship if it's fully loaded. That means the floating behemoth will only be able to fill up to about three-quarters of its capacity as it stops at ports like Hong Kong along the journey.
With U.S.-China trade worth hundreds of billions of dollars a year, shipping companies are hoping huge container vessels like the Benjamin Franklin won't have to hold back in the future.
"This is a test," Renou says. "We want to show our commitment to the U.S. route and hope that there is an understanding, that America needs this kind of ship."
The move toward bigger ships is an industry trend that has already taken hold in Asia and Europe.
"Thirty of these larger vessels are already in use worldwide, and 75 more are on order," Renou says.
Making a huge investment in these giant ships may seem like a risky strategy for an industry suffering the effects of weakening global economic growth. In particular, shipping firms face challenges from China's slowing economy as Beijing tries to steer it away from a reliance on exports.
Related: China and oil to drag down global growth, IMF says
But industry experts say buying big actually saves money in the longer term because the increase in size -- and potential profit -- far exceeds the relatively incremental increase in overheads. For example, staffing on board usually only increases by a few crew members for a ship that's twice as big as a smaller vessel.
"The larger the ship you have, the more containers you can carry," says Velibor Krpan, the captain of the Benjamin Franklin. "It's cheaper to have bigger ships, containing more products, because you have fewer things to pay for. It's more efficient in every aspect."
But right now, as global demand slows, moves to expand are helping to fuel a capacity glut.
"Currently in the container shipping industry, there is overcapacity of vessels," Krpan says. "Many of these vessels around the world, they are laid up, they are waiting for cargo."