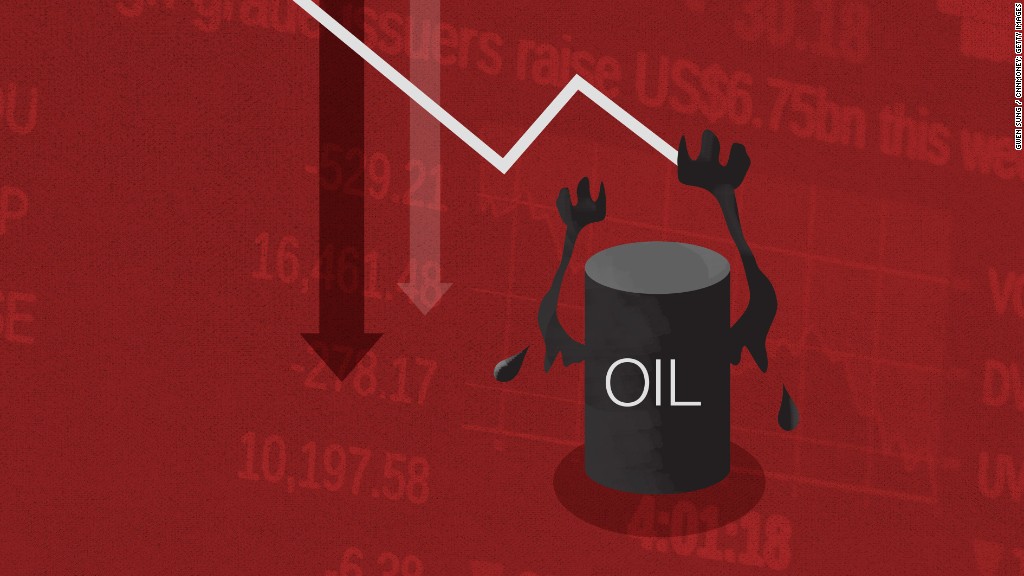 Oil prices may not be done crashing after all.
Goldman Sachs thinks crude oil's late January surge back above $34 a barrel was a mere head fake.
The elite Wall Street firm believes oil prices are poised to plunge to new lows below $26 a barrel -- despite talk of OPEC coming to the rescue by cutting production.
"It may already be too late for OPEC producers to be able to prevent another large decline in prices," Goldman analysts wrote in a research report published on Sunday.
Goldman pointed to the fact that it would take too long to enact such production cuts and oil stockpiles around the world are swelling.
The skepticism from Goldman and other oil watchers helped drive crude 11% lower just in the first two days of this week to below $30 a barrel.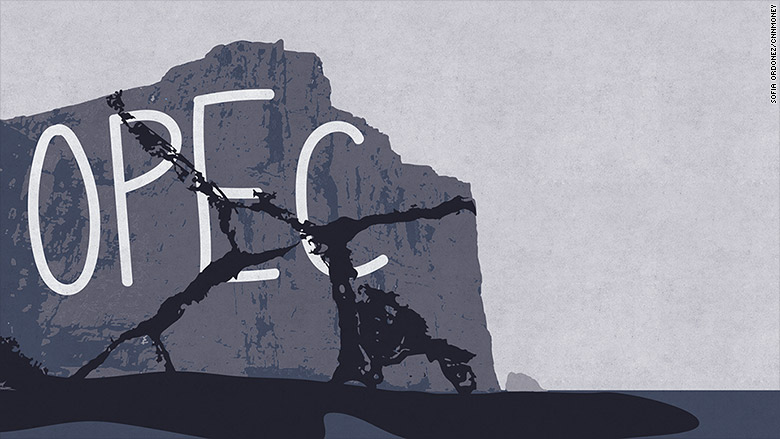 Related: Cheap prices fail to kill U.S. oil boom
Another dive in oil prices would be good news for American drivers, who continue to watch prices at the pump tumble lower. The average price of a gallon of gasoline dropped to $1.79 on Monday, down from $2.06 a year ago, according to AAA.
But if oil prices fall further, it is likely to freak out Wall Street -- and could further dent Americans' investment portfolios. Investors have been obsessed with oil lately, with stock prices moving almost perfectly in lockstep with crude last month.
Even though cheap oil is supposed to be an overall positive for the U.S., investors have focused on the downsides, including shrinking energy profits, oil bankruptcies and trouble in emerging markets like Brazil.
Oil prices -- and the stock market -- have risen sharply since January 20. Last week oil rose to as high as $34.82 a barrel, up an incredible 33% from the recent low of $26.19.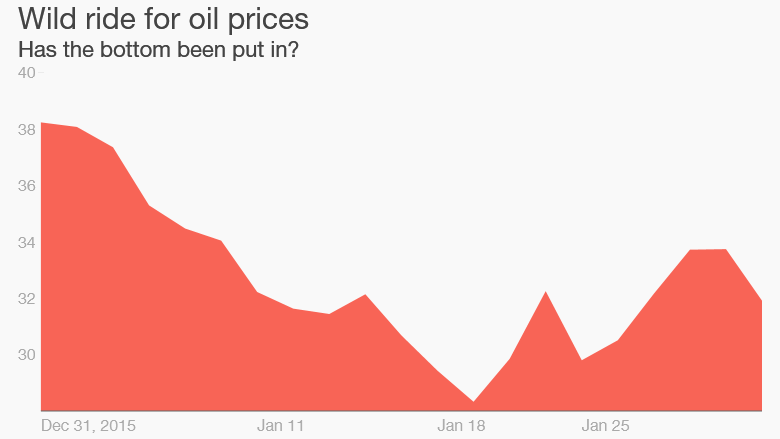 Related: Why you should worry about cheap oil
Those gains were driven in part by hopes that OPEC members would hold an emergency meeting and agree to a coordinated production cut. Russia added fuel to that fire last week, when its energy minister reportedly saying OPEC and non-OPEC producers are considering a 5% output cut.
A Gulf source told CNN last week that regional players are "willing to do anything to stabilize the market" and "all options are open."
The comments suggested a possible shift from Saudi Arabia, the powerful OPEC producer that has long resisted cutting production out of a desire to avoid losing further market share to the U.S. and other high-cost producers.
But Goldman isn't buying talk of OPEC help.
"We continue to view a coordinated production cut as highly unlikely and ultimately self-defeating," Goldman wrote in the report.
Related: Nigeria is running out of cash amid oil plunge
The bank said giving in now would backfire on OPEC by allowing U.S. production -- which is slowly declining -- to rebound. That's because the American shale oil companies that have powered the U.S. energy boom would be able to quickly ramp up output once prices rise.
"All a production cut would do at this point is throw a lifeline to U.S. shale and other non-OPEC producers," said Joe McMonigle, former chief of staff of the Energy Department who is currently an analyst at Potomac Research Group.
"There's zero chance of a change in [OPEC] production," McMonigle said.