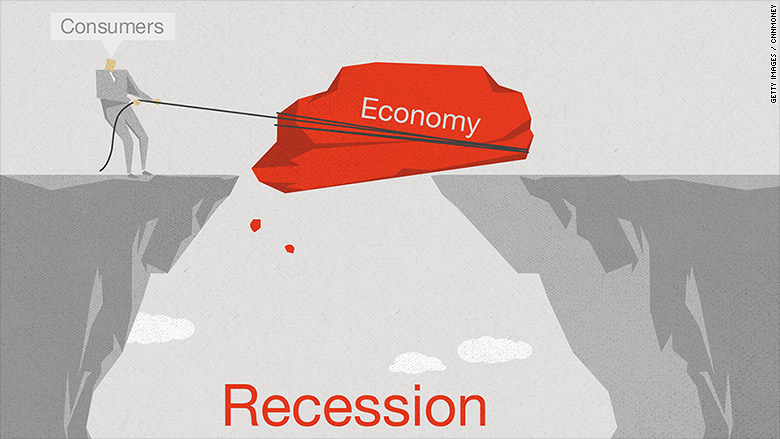 Americans are making more money, finding more jobs and enjoying cheap gas prices.
But they're not spending much...not even during the holiday season.
Concerns are rising that the American shopper won't be able to save the U.S. from heading into a recession. It's a big worry given that consumers make up about 70% of the U.S. economy and lately they haven't been opening their wallets much.
Spending fell in December compared to November even though incomes rose a bit, the Commerce Department reported Monday.
"The sum of all recession fears is whether or not the current slowdown in the industrial complex will spill over to the consumer, dragging the economy into recession," says David Kostin, chief U.S. equity strategist at Goldman Sachs.
U.S. manufacturing is already in a recession. The sector contracted for the fourth straight month in January, according to the key ISM index, which track's the industry's growth.
Related: U.S. recession cries grow louder
All of this presents a complicated picture of the economy.
Some parts of the economy are thriving. Last year, Americans bought a record number of cars. And there was evidence that shoppers are spending on their homes, particularly on big ticket items like kitchen counter tops, dish washers and roofs.
Americans are also finding work: the unemployment rate is a healthy 5%. More young college graduates are landing jobs and their incomes have risen.
All of these should reflect positively on the economy.
However, the U.S. economy grew an anemic 0.7% between October and December. It was the slowest pace since the first quarter of 2015.
Related: Income for recent college grads
The fact that gas has fallen below $2 a gallon and Americans still haven't been spending is worrisome.
In fact, people are just saving more. Americans collectively saved $753 billion in December, up from $653 billion in December 2014, according to Commerce Department.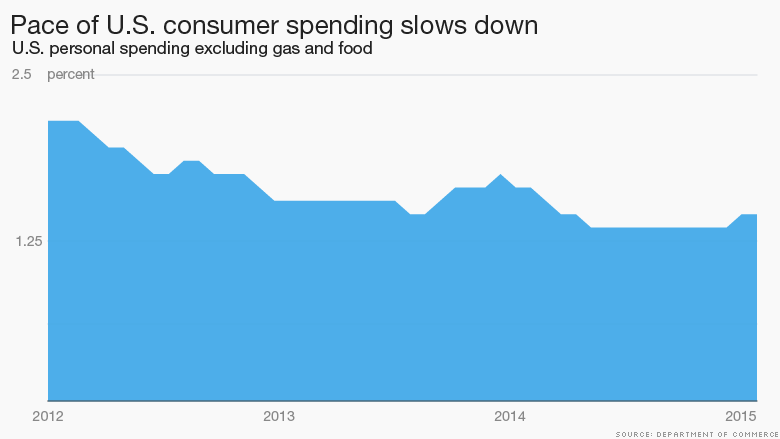 At the same time, personal spending, excluding the volatile things like gas and food, grew at a tepid 1.3%, slower than the 1.5% rate in 2014.
"Spending momentum slowed as 2015 drew to a close and enters the year on a weaker note," said Jennifer Lee, senior economist at BMO Capital Markets.
Related: U.S. economy grinds to near halt at end of 2015
Saving money is not a bad thing but the timing isn't ideal for the U.S. economy. But when consumer spending loses momentum, the economy doesn't grow.
The global economy too is slowing down, hurting American manufacturing, which makes up about 10% of the U.S. economy.
U.S. trade is getting dragged down by the lack of demand from buyers overseas and the strong dollar, which makes American goods more expensive abroad.
Chances of a recession might be low this year, but more cracks are showing up in the U.S. economy early in 2016.