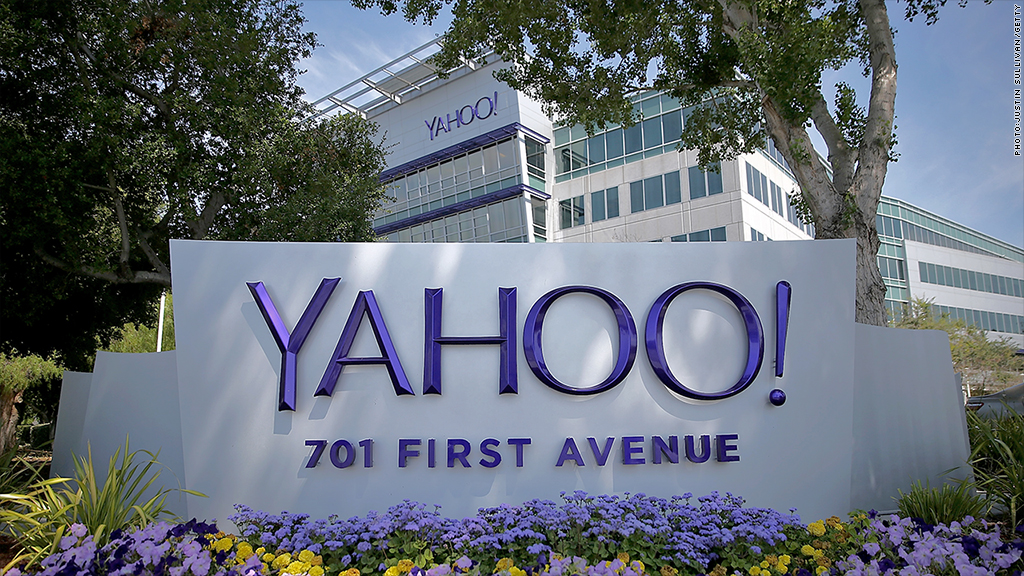 The war for control over Yahoo appears to have claimed its first victims -- Yahoo's staff.
Embattled CEO Marissa Mayer is expected to announce layoffs of 15% of Yahoo's workforce, according to the Wall Street Journal. She is set to break the news when the company reports its quarterly finances on Tuesday afternoon.
A spokeswoman from Yahoo declined to comment, citing Yahoo's quiet period ahead of its earnings announcement.
The layoffs would give Mayer another tool in her arsenal to fight off a looming fight with activist shareholders, who want to wrest control of the company away from her. By making Yahoo leaner and more profitable, Mayer could gain some key supporters.
Angry investors, led by hedge fund Starboard Value, say that Mayer and her team have made no progress over the past three-and-a-half years in their attempt to turn around Yahoo's fortunes. Despite spending billions of dollars buying numerous companies, changing the company's logo and hiring A-list media personalities, Yahoo's core Internet advertising business has continued to lose ground to Google (GOOGL) and Facebook (FB).
Yahoo's (YHOO) board continues to have Mayer's back. Together, they staved off a potentially ugly battle for control of the company in December, when Yahoo agreed with Starboard's demands to spin off the core Internet business into a separate company and keep Yahoo's 15% stake in Alibaba, potentially saving billions of dollars in taxes.
But Starboard wasn't satisfied with that plan alone. In January, the company's manager Jeffrey Smith called for "significant changes across all aspects of the business starting at the board level, and including executive leadership."
Trimming Yahoo's staff might buy Mayer time to make the necessary changes.
Pivotal Research Group urged investors to buy Yahoo, noting that "circumstances are sufficiently dire" that it's "much more likely now" that the company will make changes that unlock shareholder value.
Related: Hedge fund is sick of Yahoo CEO Marissa Mayer
But there's no guarantee that she'll ultimately get to keep her job. Mayer has done little to prove that Yahoo can ever be turned around. And this isn't the first time Yahoo has tried mass layoffs: Yahoo has already reduced its staff by about a quarter since 2012, just before Mayer took over.
Mayer has repeatedly said that Yahoo has just scratched the surface in the turnaround that she believes the struggling company is capable of. She has said Yahoo is now correctly targeting its audience's daily Internet habits, and it's just a matter of time before Yahoo starts gaining momentum.
But investors are growing tired of waiting.
"Although it already has all of the assets it needs to execute a decent turnaround, there is no sign of Yahoo ever fulfilling its potential," said Richard Windsor, analyst at Edison Investment Research.
Mayer appears to be in a no-win situation. By acknowledging that Yahoo hasn't yet lived up to its turnaround potential, she is in effect indicting her own leadership. And by laying off staff, she might be sacrificing Yahoo's long-term viability for near-term gains.
Firing Mayer won't be easy. It would cost at least $25 million in severance, and she just gave birth to twins.
But there's one potential road out that might appease shareholders, activist investors, Yahoo's board and Mayer alike: Bloomberg reports that Yahoo is reassessing whether to spin off its main Internet business. Instead, it is considering an outright sale.
That strategy jibes with Yahoo's recent investments, heavily ramping up staffing and redesigns for its popular finance and sports businesses. That makes it potentially much more attractive to a media company that wants to scoop it up.
AOL-owner Verizon (VZ) has publicly stated that it would consider buying Yahoo. (Maybe, after years of courting one another, AOL and Yahoo will merge after all!)
Meanwhile, Yahoo's fourth-quarter earnings are expected to be something of a disaster.
Sales
Fourth quarter of 2014: $1.2 billion
Fourth quarter of 2015 forecast: $948 million, down 20%
Yahoo's sales have declined in four of the past six quarters.
Profit
Fourth quarter of 2014: $166 million
Fourth quarter of 2015 forecast:$41 million, down 75%
Yahoo's sales have declined in six of the past seven quarters.