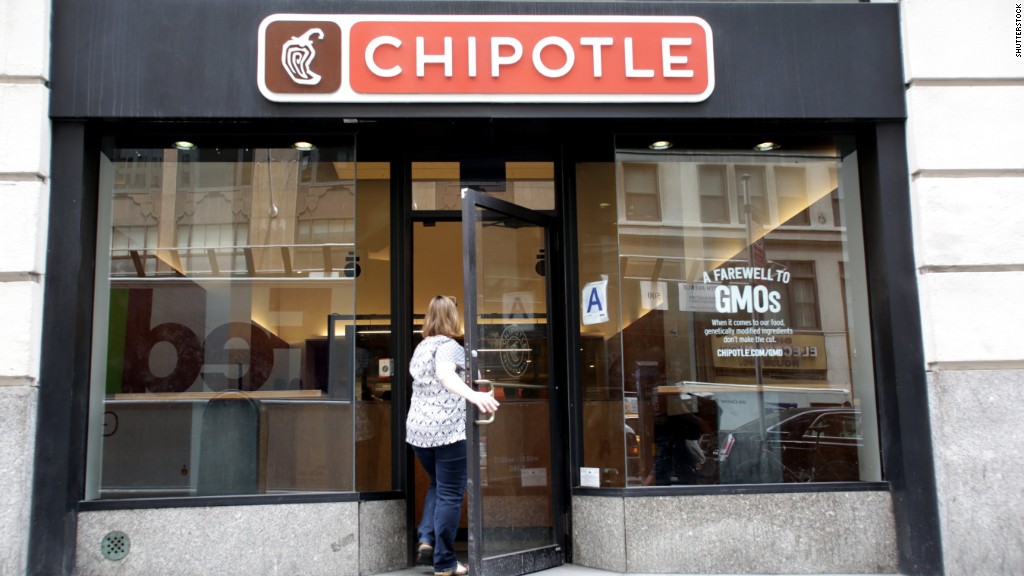 Chipotle had an awful end to 2015.
The company's E. coli scare hospitalized 22 people, crushed its "healthy food" image and scared away many customers across the country.
Chipotle execs said in January that earnings would be "messy" and they were right. Chipotle only pulled in a $68 million profit in the last three months of 2015, plunging 44% compared to the same time a year ago. Its the worst quarterly profit for Chipotle since 2012.
The burrito chain also posted its first sales decline since it went public in 2006.
"The fourth quarter of 2015 was the most challenging period in Chipotle's history," Chipotle CEO Steve Ells said in a statement.
Sales at Chipotle restaurants open a year or longer -- a key restaurant industry metric -- were down 14.6% in the fourth quarter.
Chipotle sales totaled $997 million between October and December, down about 7% from the same period a year ago. Not even analysts thought the damage would be that bad: they estimated that Chipotle would bring in at least $1 billion in sales.
Fortunately, the worst may be over for Chipotle. The Centers for Disease Control announced Monday that the company's E. coli outbreak "appears to be over." CDC experts were unable to identify the exact cause of the outbreak.
Related: Chipotle's E. coli outbreak "appears to be over" CDC says
However, Chipotle faces a long road ahead. It must regain customers' trust and prove its restaurants are safe places to eat.
Investors are betting that's going to take time. Before the outbreak, Chipotle's stock was changing hands at $757 on October 13. Now its stock is worth $475 -- a 37% decline. Chipotle has lost $8 billion in value since its stock peaked in August.
Ells and other execs said in January that the company has already taken extra food safety measures and plans to implement more in its kitchens to better ensure an outbreak is less likely to occur going forward.
In its conference call, Chipotle co-CEO Monty Moran said Chipotle would pursue an "industry-leading food safety program," by changing how it prepares its tomatoes, lettuce and peppers, and how it marinates its chicken and beef.
It will also embark on a new marketing campaign this month to lure back scared customers.
Related: Chipotle to close restaurants Feb. 8 for food safety meeting
"There's going to an investment in food safety, there's going to be an investment in marketing," John Hartung, chief financial officer at Chipotle, said at a conference in January.
With the CDC report behind it, Chipotle still faces legal issues.
The company is already being investigated by federal authorities over the foodborne illnesses tied to the restaurants. Chipotle said Tuesday it had received a subpoena that expands the scope of the criminal investigation.
Chipotle must now provide authorities with three years of documents related to food safety. Chipotle said it will cooperate with the investigation.
In addition, some 100 customers who got sick eating at Chipotle are suing for lost wages, medical bills and pain and suffering. The lawyer representing the plaintiffs, Bill Marler, thinks he can win as much as $20 million.
-- Cristina Alesci contributed to the report.