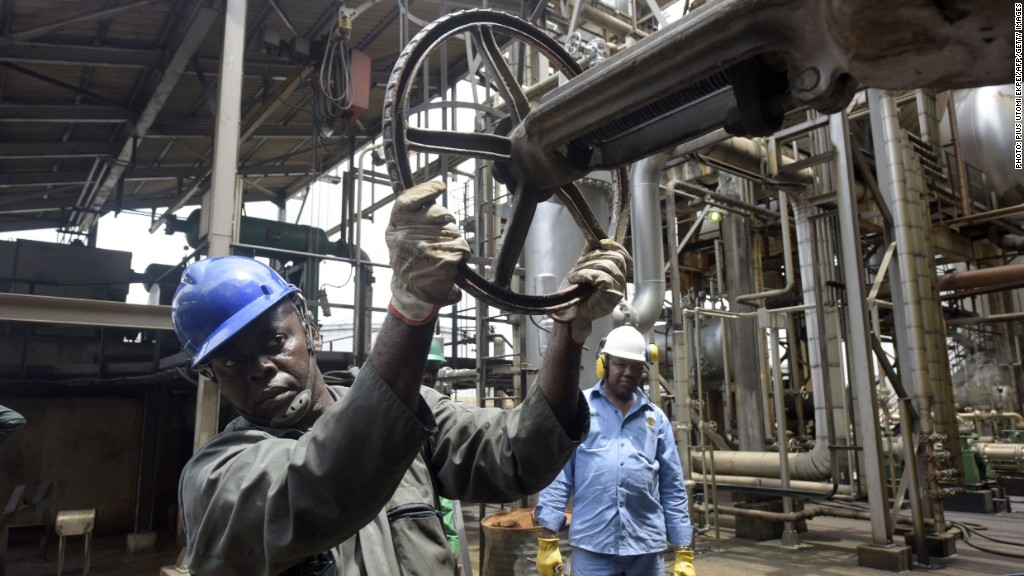 Christine Lagarde is having some trouble sleeping at night.
The head of the International Monetary Fund said "quite a few countries" are keeping her awake lately, but at the top of the list are low-income nations that rely heavily on exporting oil.
"I think of a country like Nigeria, for instance, where 90% of its exports and 60% of its revenue are generated by oil or oil-related revenues," Lagarde said Sunday in an interview on the sidelines of the Albright Institute at Wellesley College. "That's a country that is facing...a real hardship."
Translation: Loans and bailouts for oil countries are likely coming.
Several countries are running out of money because of cheap oil.
Nigeria is considering asking the World Bank, the African Development Bank and other international organizations for a $9 billion loan.
Azerbaijan is looking for an emergency loan of up to $4 billion. IMF officials have been in the country doing an assessment of the crisis.
Related: This oil producing country may need a bailout
Venezuela is even closer to financial meltdown, although it might turn to other sources for help, like China. Last year, it struck a deal with China to provide oil in exchange for billions in aid.
"Venezuela is about to go belly up, not only politically, but economically, because they misspent their oil revenue before," former U.S. Secretary of State Madeleine Albright told CNNMoney.
Countries that rely heavily on oil were booming when crude oil was selling for over $100 a barrel. But prices crashed at the end of 2014 and have tumbled even lower since. In mid-January crude oil fell below $27 a barrel for the first time in over a decade.
Related: Goldman Sachs: It's too late for OPEC to save oil
"The fact that a price below $100 seemed inconceivable to so many is kind of astonishing," says Mike Lynch, president of Strategic Energy and Economic Research
For now, Lagarde is preaching a message of economic reform.
"It's necessary [for Nigeria] to very promptly redesign its business model and realign its interests with a completely new reality which is here for longer than many think," Lagarde said Sunday.
But experts think loans might be a necessary part of that transition.