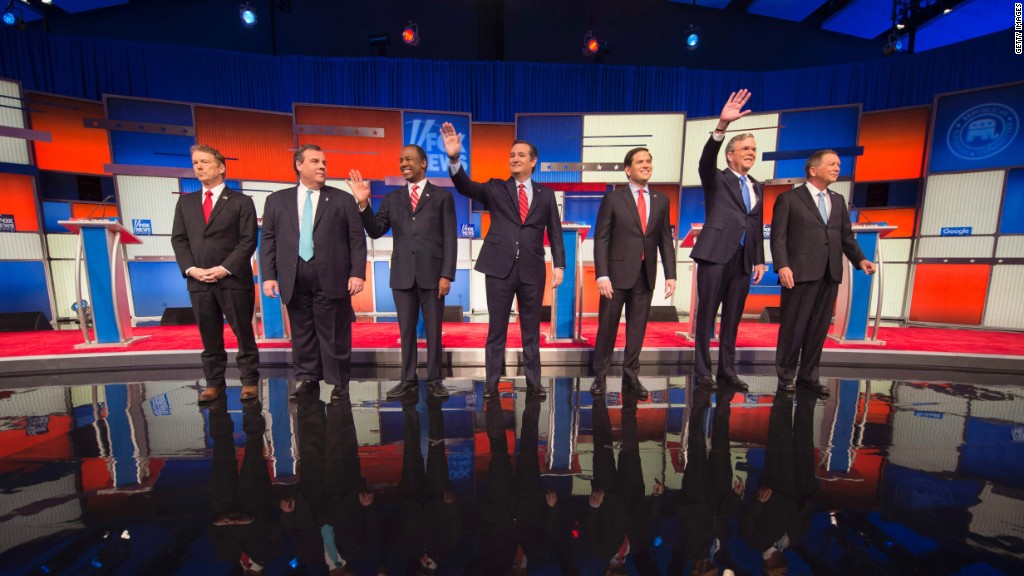 When Donald Trump lost to Ted Cruz in the Iowa caucuses Monday night, Fox News commentators were quick to suggest that Trump's decision to skip Fox's debate had something to do with it.
Entrance poll surveys of Iowa voters supported the theory. Marco Rubio won 30% and Ted Cruz won 25% of the GOP voters who made up their minds in the days between the debate and the caucuses. Trump won only 14% of those late-deciding voters.
Among those who decided earlier, 30% backed Trump and Cruz while only 19% backed Rubio.
Anecdotally, the Rubio campaign said it also heard anger about Trump's snub during canvassing calls to uncommitted voters.
Some Fox officials had privately predicted — and perhaps hoped for — this result. Trump's ceaseless criticisms of Fox host Megyn Kelly and his decision to snub last Thursday's debate had aggravated the network.
Related: a timeline of Trump and Fox's war of words
Kelly was the anchor who announced Cruz's defeat of Trump during the 10 p.m. hour on Monday. The channel immediately highlighted Rubio's strong third-place showing, with Kelly noting that Rubio "showed up" at the debate and "argued his points."
Fox analyst Kirsten Powers said that by skipping the debate, "Trump missed an opportunity to make his closing arguments, and it looks like he's paying a price for it here."
Kelly's co-anchor Bret Baier pressed the point further, asking analyst Stephen Hayes, "Can we definitively say that not going to the debate hurt Trump?"
"It certainly looks like that," Hayes said.
The Fox commentators weren't explicitly celebrating, but the subtext was clear to some viewers. "Fox seems content to gloat that after losing last week's debate battle, signs are pointing to the network winning the war," Slate's Isaac Chotiner wrote.
The Iowa results and the entrance poll data seemingly contradicted the assessments of many pundits who said Trump won last week's debate by not being there.
Trump managed to take away some of Fox's debate audience, but 12.5 million viewers still tuned in for the event. Trump claimed afterward that if he had attended, he would have doubled the ratings.
Related: who won the ratings race, Fox or Trump?
Talking heads across the dial — including on Fox — pointed out that Trump's brand identity as a "winner" had been dented by his second place finish in Iowa.
Fox's senior political analyst Brit Hume said "this whole aura about him may begin to subside."
A couple of hours later, Fox contributor Charles Krauthammer told Kelly that the debate boycott was "kind of a slap in the face" to Iowa voters that "allowed the others to come out and shine."
Kelly sought to balance her midnight program by bringing on longtime Trump advisor Roger Stone, who noted that Ronald Reagan also skipped a debate in 1980, also lost the Iowa caucuses, but went on to win the presidency.
Ever since Trump tangled with Kelly at the first GOP debate of the season last August, he has utilized Twitter to complain about her and retweet hateful comments about her.
The candidate didn't tweet about his second place finish on Monday night. But Kelly told her viewers about a tweet of his from June 2014 — an archived comment that went viral in the wake of his loss to Cruz.
His old tweet quoted the late pro golfer Walter Hagen, who once said, "No one remembers who came in second."
Manu Raju, Jennifer Agiesta, and David Chalian contributed reporting.