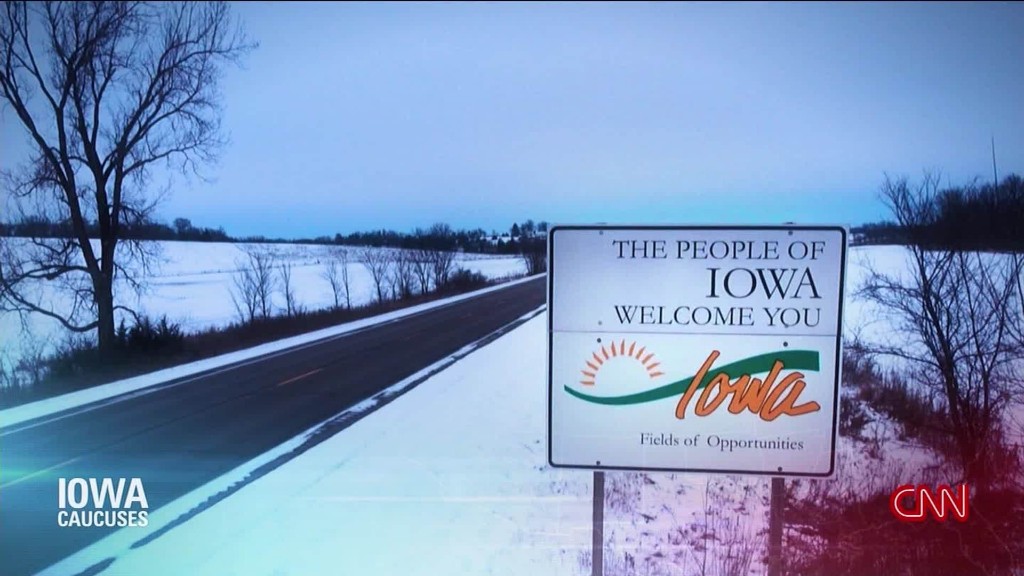 Record TV ratings for primary debates gave way to record ratings for coverage of the Iowa caucuses on Monday night.
CNN, Fox News Channel and MSNBC saw big spikes in viewership, driven by two primary questions: "Will Donald Trump lose to Ted Cruz?" and "Will Hillary Clinton lose to Bernie Sanders?"
Trump lost. Clinton barely won. Television clearly won.
CNN ranked No. 1 among 25- to 54-year-olds, the key demographic for news advertisers. Fox News ranked No. 1 among total viewers, owing to the fact that most cable news viewers are older.
In a press release, CNN said it had the "highest rated Iowa caucuses in CNN and cable news history, among adults 25-54."
This means Monday night's coverage surpassed the historic night in January 2008 when Barack Obama beat Clinton in Iowa, the previous Iowa caucus ratings record-holder.
Related: Did Trump's debate snub hurt him?
On that night in 2008, CNN averaged 2.20 million viewers in prime time, 894,000 of whom were ages 25 to 54.
On Monday night, CNN averaged 3.73 million viewers in prime time, with 1.39 million in the demo.
Fox News averaged 4.46 million viewers on Monday night, with 1.16 million in the demo. MSNBC came in third place with 1.97 million viewers and 592,000 in the demo.
Viewership was also up across the board compared with the caucus night in 2012, when 2.63 million viewers watched Fox News and 1.31 million watched CNN, and 1.19 million watched MSNBC.
The above-average ratings are the latest sign of American enthusiasm about the 2016 election. In some ways, the high levels of viewer interest paralleled high levels of turnout in Iowa.
Web traffic was also elevated on Monday night as people sought out information about the Iowa results.
CNN's politics web site had "its third best day in history," according to the company, behind election night 2012 and the day after that election night.
Yahoo's politics page, its hub for caucus coverage, saw a 575% week-over-week increase in unique users and a 749% week-over-week increase in page views.
The Washington Post's overall page view totals were 75% higher than an average weeknight, according to a spokeswoman there.
And The New York Times said its most-read web features were its Iowa results page, which had nearly 3.5 million visitors, and its live blog, which had over 2 million views.
"That's the highest number of readers we have seen on a live blog during a 24-hour period," a spokeswoman said.
Related: Bill O'Reilly and Megyn Kelly rivalry felt in halls of Fox News
Back on TV, the prime time coverage on MSNBC was a source of intrigue for news junkies and Twitter users, since it was Brian Williams' highest-profile assignment since his return to the airwaves last September. Williams was removed from the "NBC Nightly News" last year amid an embellishment scandal.
His name was trending on Twitter for much of Monday night, with a mix of positive and negative reactions to his role co-anchoring with Rachel Maddow.
In the ratings, MSNBC was in a distant third place for the evening.
Sign up for the Reliable Sources newsletter
Viewership for all three cable news channels peaked in the 10 p.m. hour, shortly after Cruz was declared the winner on the GOP side.
So the candidates who spoke earlier in the evening -- namely Trump and Marco Rubio -- reached a bigger audience than the candidates who waited until later.