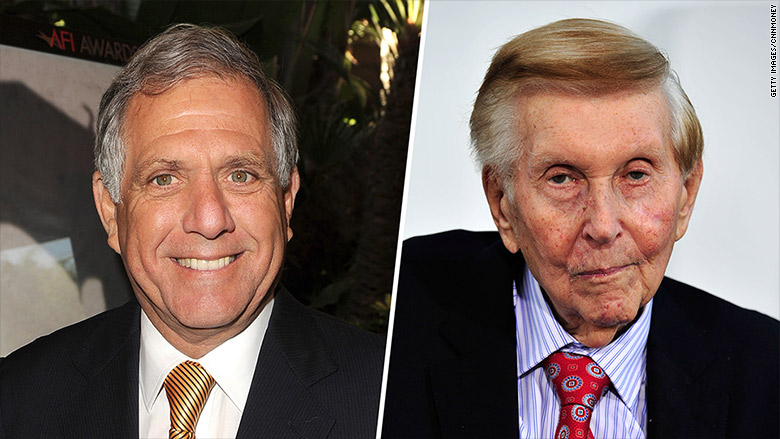 Ailing media mogul Sumner Redstone is resigning as the executive chairman of CBS Corporation, and CBS CEO Leslie Moonves is taking his place.
Wednesday's announcement symbolizes the beginning of the end of the Redstone era. A similar change may occur at Redstone's other company, Viacom, later this week: Viacom's board is scheduled to meet on Thursday.
Activist investors have been pressuring Redstone, 92, to step aside amid intense scrutiny about his health. He had long intended for his daughter Shari to succeed him as the non-executive chair of both CBS and Viacom. But Shari Redstone said Wednesday that she has decided on a different path.
After Redstone submitted his resignation from CBS on Tuesday, the CBS board offered his position to her, but she declined and nominated Moonves.
"It is my firm belief that whoever may succeed my father as chair at each company should be someone who is not a trustee of my father's trust or otherwise intertwined in Redstone family matters, but rather a leader with an independent voice," she said in a statement.
Shari's remarks suggest that she stands in opposition to Viacom CEO Philippe Dauman, who is "intertwined" with family matters because he is Sumner's health care agent.
If Sumner is also resigning from the chairmanship of Viacom, as is expected, Shari and Dauman may battle for control of the company at Thursday's board meeting.
Sumner himself had no comment on any of the maneuverings on Wednesday. He now holds the title of chairman emeritus at CBS.
As the newly named chairman, Moonves, 66, will remain CEO and president of the company.
It is a crowning moment for Moonves, one of the most respected executives in the media business.
CBS stock rose 3.5% in after hours trading after the announcement.
Widely read media analyst Michael Nathanson called the news "change we can believe in."
"Thinking about what this change for CBS and Viacom could mean for the broader media landscape, we believe that changes for the Redstone controlled empires could be the trigger for media company consolidation as each company will be forced to figure out if they are a buyer or seller in the coming months," Nathanson wrote in a note to investors.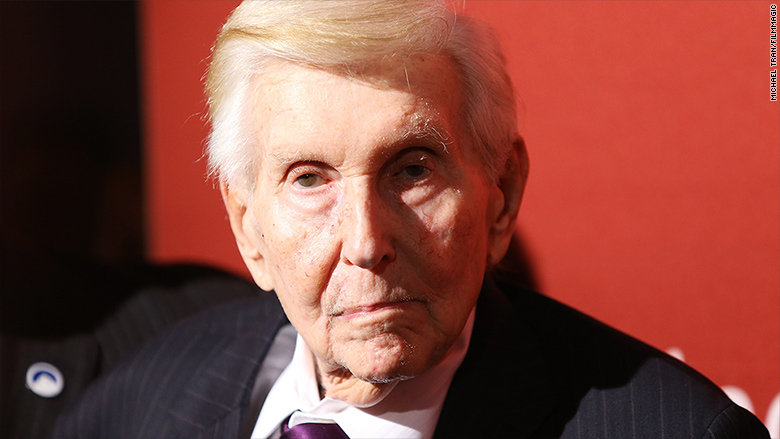 As for Redstone, he is known to be in poor health, and in recent months his competency has been repeatedly challenged in court proceedings.
Court papers filed by an ex-girlfriend last fall described Redstone as a "living ghost" who is practically unable to make decisions for himself.
Related: Competency of Sumner Redstone challenged in court
Manuela Herzer described him as "vacant, expressionless and out of touch." She said he was basically unable to talk and "cannot walk or stand by himself."
Some of Herzer allegations have been hotly disputed, particularly by Dauman, who replaced her as Redstone's agent in an "advance health care directive" document last fall.
Herzer alleged that Redstone "lacked the mental capacity" to make that change. The directive document showed Redstone's name signed with an illegible scrawl.
Herzer's case has faced some setbacks in court, but last month a judge ordered Redstone to undergo a one-hour mental exam to determine his competency.
The same judge denied her request to have Redstone questioned under oath by lawyers.
Concerns about Redstone's health have loomed large over the corporate governance of both CBS and Viacom. Investors have focused more on the underperforming Viacom than CBS.
In a recent acknowledgement of Redstone's reduced role, his Viacom pay was slashed from $13 million in 2014 to $2 million in 2015, a 85% pay cut.
Springowl Asset Management, an activist fund which has called for change at Viacom, issued a statement on Wednesday evening noting that the company's stock price soared in after-hours trading on speculation about a new chairman.
"We strongly urge management and the board to appoint an independent director as executive chairman and that it not be Philippe Dauman," Springowl said. "We hope management and the board will continue to act responsibly in addressing Viacom's depressed stock price relative to its much higher asset value."
B
oth CBS and Viacom will report quarterly earnings next week.