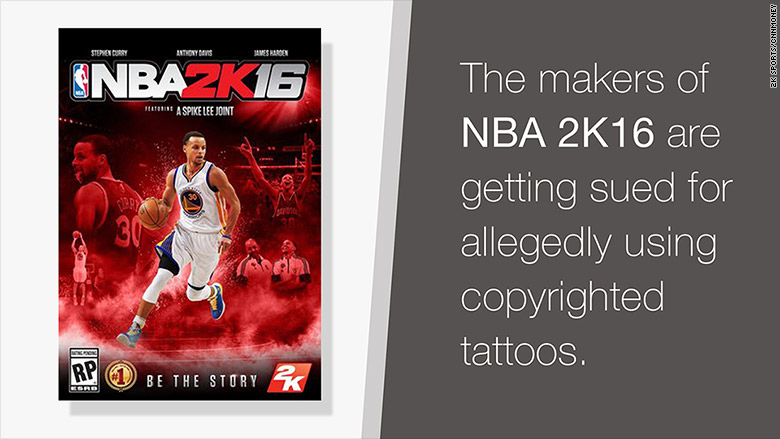 Take-Two Interactive wanted to make its NBA 2K16 video game realistic, so it reproduced players' tattoos on their virtual personas.
Now it's being sued for $800,000 in damages for alleged copyright infringement.
The suit against Take-Two Interactive (TTWO) is being brought by Solid Oak Sketches, a group that holds the rights to the tattoos.
Solid Oak Sketches obtained the rights from five tattoo artists by agreeing to pay royalties based on the use of the tattoos, according to the suit.
The eight disputed tattoos belong to several players. Four of LeBron James' tattoos are cited in the suit, including a portrait of his son on his inner left forearm and the words "Hold My Own" on his left bicep. The other players are Kobe Bryant, Kenyon Martin, Eric Bledsoe and DeAndre Jordan.
Related: ESPN and Tencent team up to cover sports in China
A spokesman for the NBA 2K game said "as a practice" the company does not comment on lawsuits.
The suit says Take-Two advertised the use of the custom tattoos over social media as a "major feature in the game."
The suit only applies to the tattoos used in NBA 2K16. It says that tattoos were used in earlier versions of the game, but Solid Oak Sketches didn't have the rights to them at that time.
Solid Oak Sketches says in its complaint that is willing to let the tattoos continue to be used in the game, and would agree to a $1.1 million perpetual licensing fee.