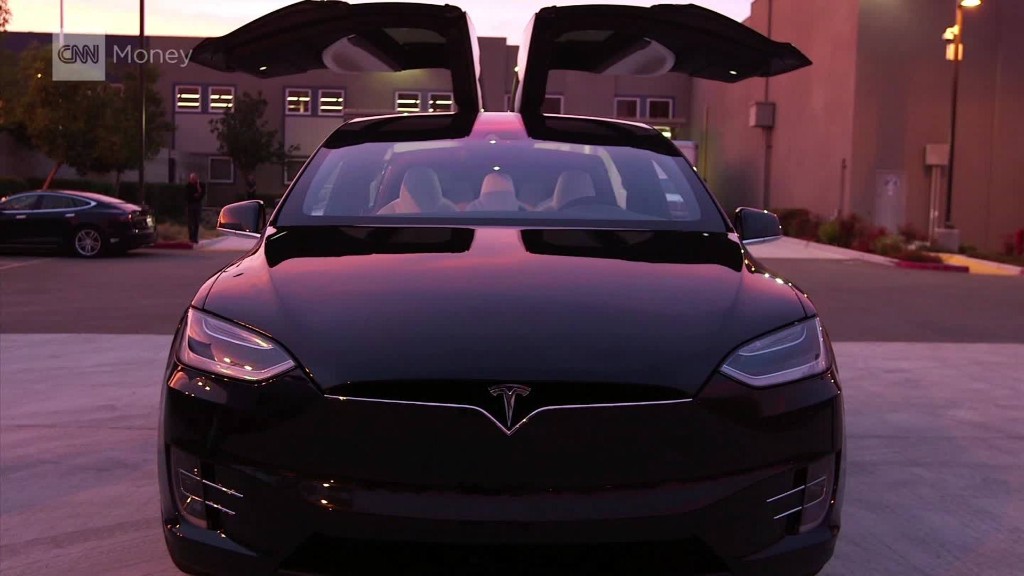 To buy a Tesla Model X, you don't just need $132,000 and the ability to wait months for your vehicle. You also need to be nice to Elon Musk.
One buyer just learned this the hard way.
Last fall venture capitalist Stewart Alsop posted an open letter to Musk critical of the Model X launch last September. He complained about the event starting late and the fact that CEO Musk didn't apologize for the delay, saying that it was "insensitive and poor judgment."
Musk's response? No Tesla for you!
The billionaire canceled Alsop's order for a Model X, for which he had put down a $5,000 deposit.
Alsop wrote a second blog about the canceled order Monday, entitled "Banned by Tesla!" He wrote that Musk called him to complain that his first post was a personal attack.
Related: Tesla's worst nightmare...cheap gas
"I also hear that you are not comfortable having me own a Tesla car and have canceled my order for a Tesla Model X," Alsop wrote. "I am terribly disappointed."
Besides being a venture capitalist, Alsop is a frequent blogger and former business journalist. He wrote he was shocked by Musk's reaction.
"When I wrote a blog post about my BMW X1 called 'My Car Makes Me Feel Stoopid.' the CEO of BMW didn't take the car back," he wrote."And in the many articles and posts I have written criticizing products, companies and people, I have never been banned from doing business with any of the companies!"
Related: Elon Musk - SpaceX wants to send people to Mars by 2025
But he said he's resigned himself to not being able to buy the Tesla he wants.
"I understand that, by writing this post, I am making certain that I will never be able to buy a Tesla," he wrote. " Indeed, I'm likely to just keep driving my irritating BMW X1."
Musk responded with a tweet in which he took another shot at Alsop.
"Must be a slow news day if denying service to a super-rude customer gets this much attention," Musk said.
A Tesla (TSLA) spokeswoman would not comment on the canceled orders or say why Tesla had the right to deny a sale to an individual who criticized the company.
"You can let Elon's tweet speak for itself," said spokeswoman Khobi Brooklyn.
But super-rude customers are among the least of Musk's problems right now.
Tesla (TSLA) shares are down nearly 30% so far this year, hitting their lowest level since February 2014 on Wednesday. Investors are worried that cheap gas could hurt the demand for the company's electric cars when it eventually introduces a mass market vehicle, the Model 3.
Shares of SolarCity (SCTY), his solar panel company, are down nearly 40%.
All told, Musk's net worth has tumbled about 20%, down to a mere $10 billion, according to the Bloomberg Billionaires Index.