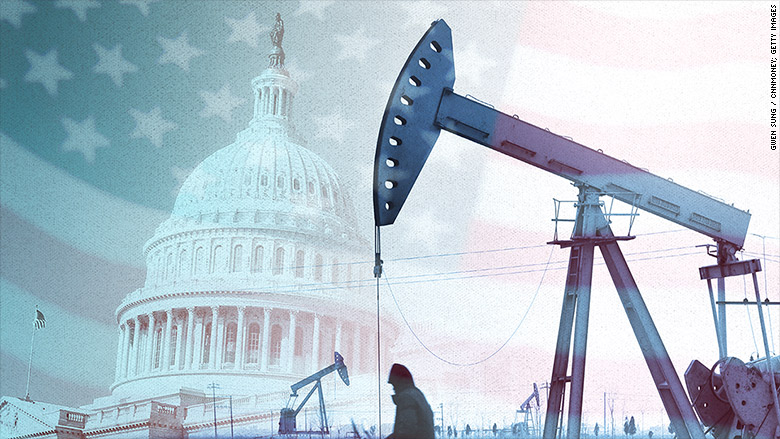 President Obama wants to impose a huge new oil tax.
The White House on Thursday proposed a wave of clean transportation investments that would be paid for through a $10-per-barrel fee on oil.
The tax --which is very unlikely to get through Republican-controlled Congress -- would be paid for by oil companies. It also comes at a time when the energy industry has been crushed by the dramatic crash in oil prices.
Jeffrey Zients, Obama's chief economic adviser, told reporters the fee would apply to oil that is imported into the U.S. He said oil pumped in the U.S. that is exported would not be taxed, ensuring a "level playing field" for American producers.
The U.S. imports quite a lot oil even though it has become more self-reliant in recent years. The nation imported 7.4 million barrels of oil per day as of November, down from 10 million at the end of 2005, according to the Energy Information Administration.
By comparison, the U.S. pumped 9.3 million barrels of oil and exported just 320,000 barrels per day in November.
It's not clear exactly where along the production chain the fee would be levied or whether it would be imposed on American oil that is not exported.
Zients did say it wouldn't be imposed at the wellhead.
Obama wants the new revenue to pay for an upgrade to the country's transportation system. The plan calls for boosting spending on clean transportation infrastructure by 50% and includes integrating new technology like self-driving cars.
"Our transportation system is too dependent on oil. The system was not designed to handle the realities of changing climate," Zients said.
The White House said the new tax would encourage clean energy innovation and reduce the country's reliance on oil.
The proposal aims to expand transit systems in cities, make high-speed rail more of an alternative to flying and modernize freight systems.
Related: Big Oil's coveted dividends are under siege
The oil fee would also provide for the "long-term solvency" of the Highway Trust Fund, a dwindling pool of money that helps finance projects such as maintaining the country's roads and bridges.
Republicans in Congress are extremely unlikely to support the tax.
House Speaker Paul Ryan quickly called the tax "dead on arrival in Congress" and warned it would hurt poor Americans by raising energy prices.
"It really has no chance," said Joe McMonigle, a senior energy analyst at Potomac Research Group who previously served as chief of staff at the Energy Department.
The proposal comes at a very difficult time for the oil industry. Almost all oil companies have cut jobs, many have filed for bankruptcy and others have defaulted on their loans. Even the biggest oil companies have posted huge drops in profits and slashed plans to invest in their business expansion.
Related: Job cuts soar 218% in January amid oil trouble
The oil industry wasted little time voicing its opposition, warning that such a tax would raise the cost of gasoline by 25 cents a gallon and killing American jobs.
"On his way out of office, President Obama has now proposed making the United States less competitive," Jack Gerard, president of the American Petroleum Industry, wrote in a statement.
The White House acknowledged that oil companies would "likely" pass on "some" costs to consumers. However, it stressed that the current infrastructure system has costs as well.
"We have to tackle problems that have been simmering for decades," Zients said. "No one is arguing about the challenges. No one wants to talk about how to pay for it."
--CNN's Kevin Liptak contributed to this report.