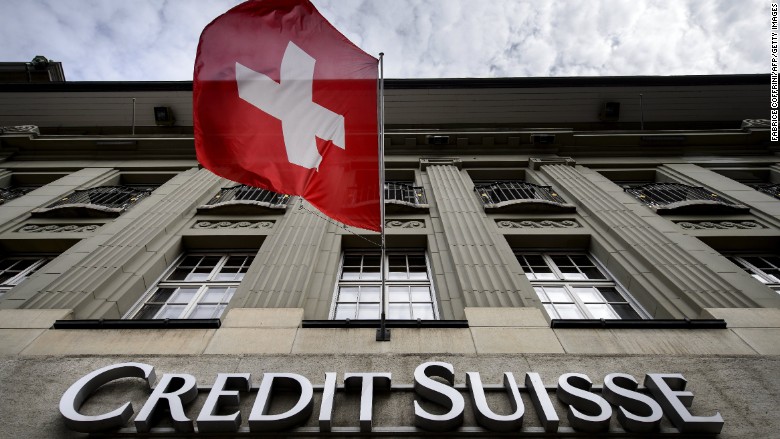 Credit Suisse shares plunged to a 24-year low after the bank slumped to its first annual loss since 2008 and said it would cut 4,000 jobs.
The bank said Thursday it lost 2.9 billion Swiss francs ($2.8 billion) in 2015, dragged down by losses and charges in investment banking. Its shares fell 12%, and have lost a third of their value in a month.
Credit Suisse (CS) wrote down the value of its investment banking business by 3.8 billion francs ($3.8 billion) in the fourth quarter. It said the charge related to its acquisition of Wall Street firm Donaldson, Lufkin & Jenrette in 2000.
The $11.5 billion deal to buy DLJ 15 years ago was hailed as the bank's breakthrough on Wall Street. But the expansion in investment banking hasn't generated the returns the Swiss bank expected.
The lender's net revenues from investment banking and capital markets declined 17% in 2015. Fixed income sales and trading revenues "declined significantly," the bank said.
Credit Suisse CEO Tidjane Thiam vowed to speed up his huge cost cutting program in 2016, announcing the bank will shed 4,000 jobs -- or almost 10% of its workforce.
"Given the particularly challenging environment we face, we decided in the fourth quarter to accelerate the implementation of our cost savings program across the bank," he said.
Thiam, who has only been in the job for seven months, first announced his plans to reshape the bank in October. He wants to focus on wealth management, and emerging markets. He raised more capital from investors and promised to cut costs by 3.5 billion francs ($3.5 billion) before the end of 2018.
"After announcing its new strategic plan at the end of last year, it was clear that [the fourth quarter] was going to be a kitchen sinking quarter, but the numbers reported today are weak even after adjusting for one-offs," said bank analysts at BNP Paribas.
-- Correction: An earlier version of this story incorrectly stated Credit Suisse shares dropped to a 25-year low. The stock dropped to a 24-year low.