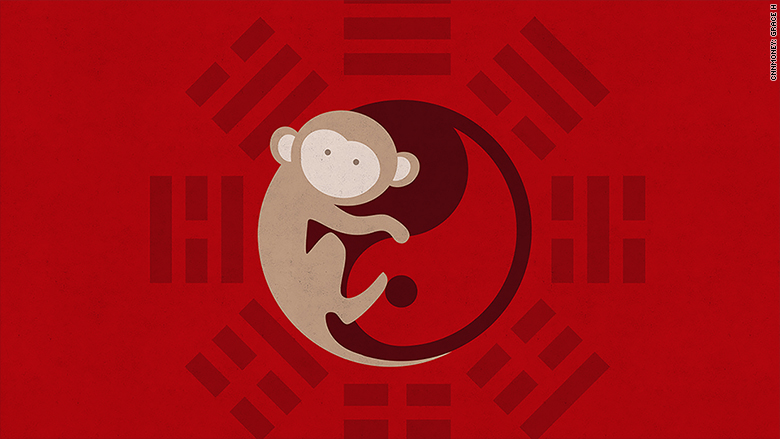 With the Lunar New Year just around the corner, many Chinese people are in the holiday spirit -- gifting cash-stuffed red envelopes and even consulting fortune-tellers to divine what's in the cards.
Seeking a fortune-teller's advice is no laughing matter in China, where feng shui and other traditional belief systems are still used to tackle life's most pressing issues, from romantic prospects to business deals.
CNNMoney decided to pose one of the biggest questions we have these days to Hong Kong fortune-teller Master Kelvin Poon: What exactly is in store for China's economy?
For some extra insight, we also ran his predictions by another professional forecaster, IHS China economist Brian Jackson. Here's what they say lies ahead in the Year of the Monkey.
The big picture
"China's economy will fluctuate a lot this year," Poon said. "The first half will be very slow, but the second half, after Aug. 8, will be much better."
That date is a key turning point, as a new energy -- what the Chinese call "qi" -- will take hold, he said.
Poon's prediction gets the timing right, according to Jackson, but the economist cited more mundane reasons for his opinion.
"It's pretty obvious in the data -- in the first half of the year, things are going to be very tough for China," he said. "I don't know that anybody would disagree with that."
A key gauge of manufacturing activity just came in at a 42-month low. And China's economy grew at 6.9% last year -- its slowest rate in 25 years.
Things aren't looking great for the coming year, either. Economists surveyed last month by CNNMoney are forecasting 6.5% GDP growth for 2016.
Roller-coaster markets
Chinese stock markets took investors on a tumultuous ride last year during which a dizzying rise gave way to a spectacular summer crash. The losses have deepened further in recent weeks.
Poon sees more fluctuations ahead but recommends buying into tech, telecom and food and beverage stocks in the early part of the year, when the element of fire is more prominent.
Jackson agrees on more market turmoil: "Everyone has known for a long time that China's stock market is basically a casino."
Beijing needs to implement more market-friendly policies, he said, and investors need to understand that the government won't be around to bail them out the next time share prices plummet.
"Until that happens, it's just going to function like a casino based on rumors," Jackson said.
Shadow banking risks
The Chinese government ought to regulate shadow-banking at the beginning of the year, Poon said. Otherwise, "the second half of the year will be a messy situation."
Shadow-banking sounds much like its name: it's a dark, unregulated patch of the country's financial system that offers loans and investment opportunities at high rates. With little transparency, nobody's sure just how big the risks are. In one recent case, the government said it busted a $7.6 billion Ponzi scheme affecting 900,000 investors.
Last month, economists surveyed by CNNMoney identified shadow banking as the number one risk to the health of China's economy, marking the first time it has topped the list since the survey's inception in 2013.
It's rising up the list as other economic worries have begun to wane, Jackson said.
Government policies are making it easier and more attractive for people to buy homes, he said, so China seems to have skirted a housing crash. And ballooning local government debt has been restructured to allow for a longer payback period, lowering potential defaults.
Trade ties
Chinese President Xi Jinping is going to have a pretty good year because he was born in the Year of the Snake, Poon says, explaining that the snake gets on well with the coming year's zodiac sign, the monkey.
Xi will do particularly well in forming global trade alliances to support China's economy, according to Poon.
Jackson says that forecast is simply "cherry-picking." Xi signed a number of major trade agreements in the past few years with Australia, South Korea and other countries, and they're just starting to kick in.
"It's something we've known for a while; it just has a delayed impact on the data," Jackson said. "We do expect trade will improve in 2016, but it's going to be pretty low compared to long-term averages for growth."
--Vivian Kam contributed to this report