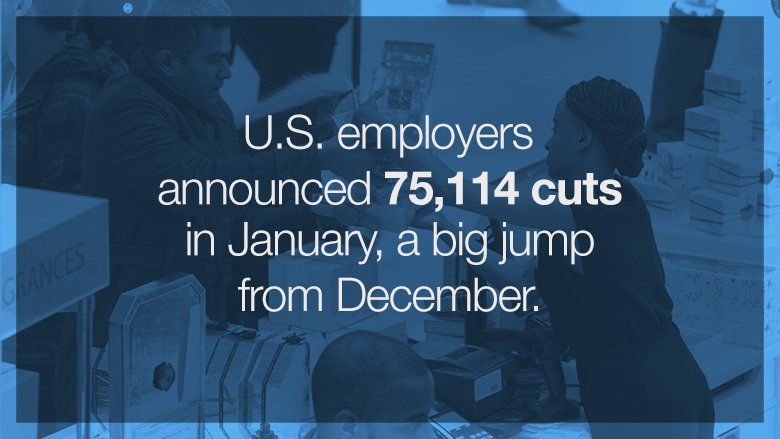 January brought snow and pink slips for many Americans.
Job cuts soared 218% in January, according to career placement firm Challenger, Gray & Christmas. Layoffs were particularly heavy for people working at energy and retail companies.
In total, American employers announced 75,114 cuts last month, according to Challenger. It was a big jump from December when under 24,000 layoffs were announced.
Walmart (WMT) and Macy's (M) are closing stores and letting workers go as they try to compete with the heavy rise in online shopping. Walmart alone announced it will shut 269 stores worldwide, potentially putting up to 10,000 U.S. workers out of jobs.
America's energy boom is creating its own problems. It's caused a global oil glut, sending prices tumbling from over $100 in the summer of 2014 to $30 now.
Some oil firms are already going bankrupt. Those that are surviving like Halliburton (HAL) are slashing costs and workers.
Related: The 100 best jobs in America
Everyone from Main Street to Wall Street is watching what happens to American jobs. They are the key to how the economy performs this year, and they could even sway the presidential election results.
Unemployment is very low, but the majority of Americans still worry about the direction of the economy -- for themselves and their children.
There are already several red flags. Growth slowed dramatically at the end of last year. The manufacturing sector is in a recession, and even the normally powerhouse service sector lost momentum in January. That's according to the latest non-manufacturing ISM report that came out Wednesday.
"The U.S. economy is slowing and yesterday's services index was a clear reminder," says Peter Boockvar, chief market analyst at The Lindsey Group in Fairfax, Virginia.
Related: Apple CEO warns of unprecedented 'extreme conditions'
Many experts still think the economy will bounce back this year, but that depends almost entirely on American consumers continuing to spend money on cars, clothes and cell phones.
If job losses pick up, that could cramp spending.
Every week, the government reports how many Americans filed for new unemployment benefits. For the past few years, the number of new claims has fallen dramatically as the economy improved from the Great Recession.
But now it's in the early stages of ticking up again.
More Americans than expected -- 285,000 people -- filed for unemployment benefits last week. Experts had predicted 275,000 would submit the paperwork.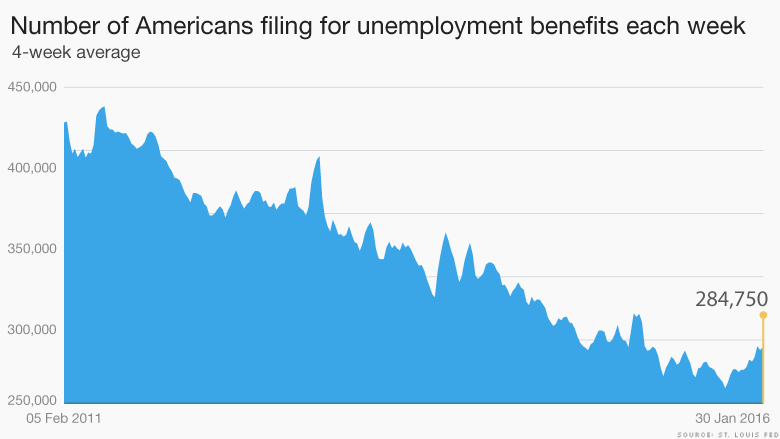 January is often a weak month for jobs. Many workers who were hired to help out for the busy holiday season are laid off as stores empty out.
But the job cuts this January were over 40% worse than the same period in 2015, according to Challenger.
"The labor market may be past its peak for this [economic] cycle," says Chris Rupkey, chief financial economist at Bank of Tokyo-Mitsubishi UFJ. It's not unusual this far into a recovery, but it does make growth harder to come by going forward.
Related: Cracks in America's economy are growing
On Friday, the official government data comes out on how many jobs were added in January. Anything above 200,000 jobs would be a sign of the U.S. economy's resilience despite the slowdown in China, Europe and other parts of the world.