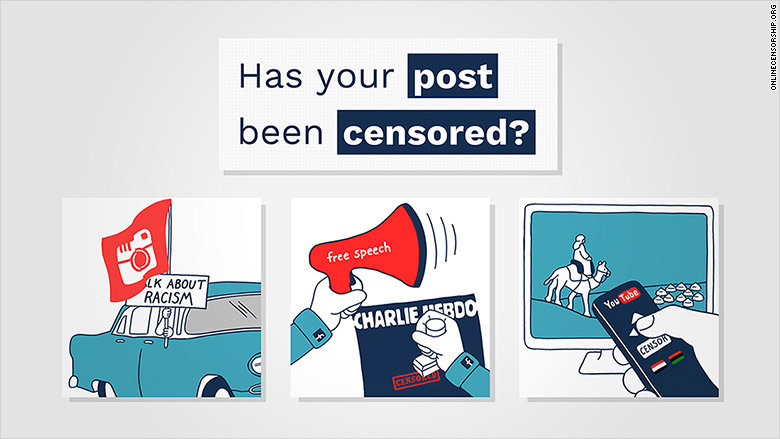 Drone strikes and labia surgery. On the surface, they don't appear to have much in common.
But when people tried to post stories about these topics on Facebook, they were blocked.
"The content you're trying to share includes a link that our security systems detected to be unsafe," read one notification.
What gives? That's what nonprofit OnlineCensorship.org is trying to understand.
"We decided that in order to bring more transparency, we'd need to collect the data ourselves," said Jillian York, cofounder of OnlineCensorship.org.
The site, which launched in its current form in November, aims to be a platform for reporting censorship on social media.
People can submit screenshots of posts that they feel have been "erroneously or unjustly" removed from six of the most popular social networks: Facebook, Twitter (TWTR), Instagram, YouTube, Google+ and Flickr. As part of the submission -- which can be done anonymously -- users answer questions about their age and why they think the content was censored.
Since November, there have been more than 200 submissions.
Related: Facebook won't let you type this
York, an American who lives in Berlin, and cofounder Ramzi Jaber, who is from the West Bank, came up with the idea after noticing posts being taken down in conflict zones.
But surprisingly, many of the submissions they're seeing are from the U.S. The "vast majority" have been from people with content banned on Facebook, said York. Facebook did not immediately respond to requests for comment.
The goal of the organization -- which is a joint partnership between Visualizing Impact and the Electronic Frontier Foundation -- is to collect posts that are censored for reasons that don't specifically violate a company's terms of service.
Facebook (FB), for example, prohibits nudity, hate speech or graphic images that glorify violence. It has also banned the private sale of guns and drugs. But a post about bullfighting? The company banned it -- then backpedaled. It also banned a post from a woman in Turkey critiquing Charlie Hebdo. Instagram removed a photo that poet Rupi Kaur posted on Instagram, showing a woman lying on her bed, her period soaking through her pajama pants.
Related: Twitter crackdown on hate speech backfires
When users are blocked or have their content removed, there is often little explanation and they're left to figure out the reason why for themselves. Is menstruation, for example, inappropriate?
OnlineCensorship, which is run by a team of six people around the world, hopes to be a resource for this. It also wants to use of the data it's collecting to determine trends and context for why posts are removed, and how that ultimately impacts users.
"Is there mass censorship going on that people don't know about? We don't know," said Matthew Stender, who works with York in Berlin. "We don't know to what extent Facebook [and other platforms] curating our timelines shape our view of the world."