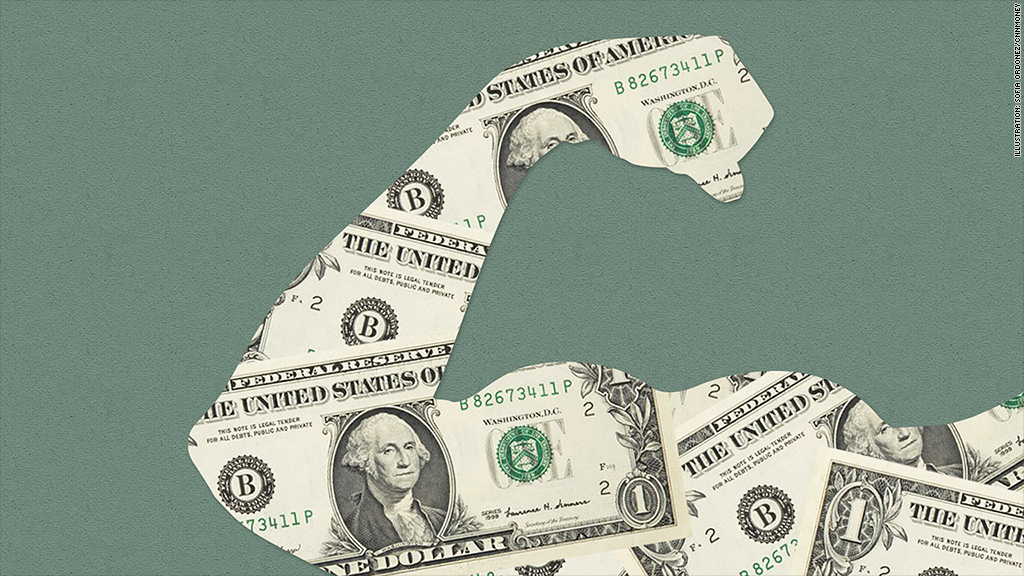 American exports shrank last year for the first time since the Great Recession.
Government statistics released Friday show that U.S. exports fell by 5% in 2015. That's the first annual decline since 2009.
The export decline is a reflection of the fragile state of the global economy. Poor global growth has led to weaker demand for American cars, computers and smartphones.
A bigger force holding back exports is the rise of the U.S. dollar. The dollar's meteoric rise has made American goods more expensive to foreign buyers. It also makes those international sales less valuable when they're converted back to dollars.
"The dollar went parabolic. It's just super strong. That means our exports get a lot more expensive," said Jack McIntyre, a portfolio manager at asset management firm Brandywine Global.
U.S. imports are also down, falling 3% last year. But that decline wasn't driven by poor demand. Instead, it reflects the dramatic decline in the price of the oil the U.S. imported.
Related: Unemployment falls to 4.9%, lowest level in 8 years
America's export slowdown did a real number on the overall economy.
The U.S. grew at a "meh" rate of 2.4% in 2015. But if exports were flat instead of down sharply, the economy would have grown at a healthier 3.1% clip, according to UBS senior economist Sal Guatieri.
"The major headwind last year was trade," said Guatieri.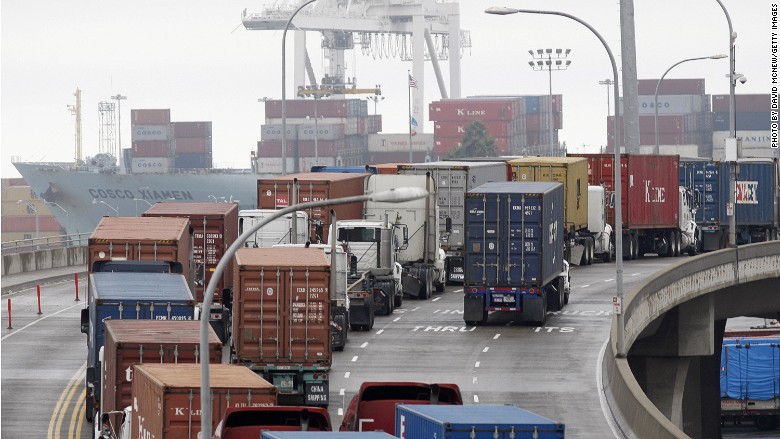 The export slump masked improvement in other parts of the economy. Boosted by the stronger jobs market, consumer spending jumped more than 3% last year. Residential construction soared nearly 9%.
Many of America's trading partners are dealing with even greater challenges. Europe's economy continues to deal with sluggish growth, while China is slowing significantly and resource-producing countries like Canada, Australia and Brazil are grappling with plunging commodity prices.
"We're in a growth-challenged world," said McIntyre.
Related: Will America's economy get dragged into recession?
The global trouble is a double whammy for the United States -- it reduces demand for American goods, and boosts the value of the dollar, hurting exports.
Late last year, the dollar surged to a 13-year high against a basket of rival currencies. The dollar spiked 9% last year alone and it's getting closer to the euro, which is worth $1.11 today.
The dollar strength was a major headwind cited by a long line of American companies in recent weeks, including United Continental (UAL), Johnson & Johnson (JNJ), Tiffany (TIF) and Ralph Lauren (RL).
"It's been the strongest currency in the world. As a consequence, U.S. companies have lost competitiveness," said Guatieri.
Companies that rely on international sales could get a bit of a break this year. The U.S. dollar is down almost 2% in 2016 as the global turmoil threatens to derail the Federal Reserve's plans to raise interest rates four times this year.
"I just don't see the dollar being able to repeat the gains it had last year. If the dollar weakens, that should help exports," said McIntyre.