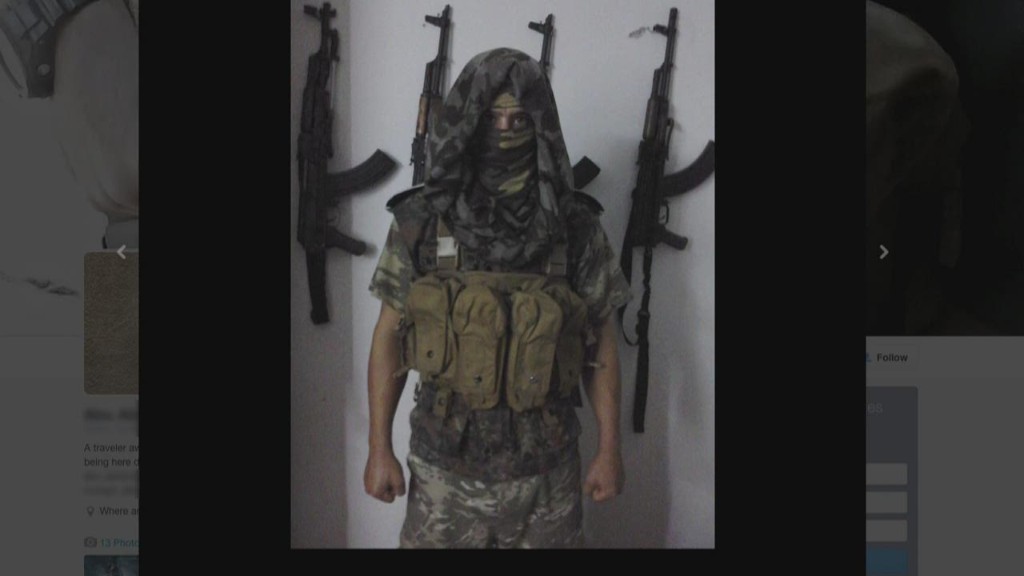 Twitter has significantly ramped up its anti-ISIS efforts by shutting down thousands of terrorists' accounts and adding staff to monitor terrorist activity on its network.
The social media company said in a blog post Friday that it has suspended 125,000 accounts over the past seven months for threatening or promoting terrorist acts. Most of the people behind the accounts were affiliated with or supported ISIS, Twitter said.
ISIS recruiters have successfully used Twitter to lure disillusioned people to join their cause.
"We condemn the use of Twitter to promote terrorism," the company said in the blog post. "As the nature of the terrorist threat has changed, so has our ongoing work in this area."
Twitter (TWTR) said that it has grown the team that reviews reports of terror activity on the network. The extra staff has made great strides in identifying terrorists on its network and has "significantly" reduced Twitter's response time when it needs to suspend an account, the company said.
Other tools in Twitter's arsenal against ISIS include spam-fighting software that is designed to seek out terrorists' accounts. Twitter is also partnering with law enforcement and online organizations working to counteract terrorists' online recruiting efforts. Account suspensions are up and terrorist activity is down, Twitter claims.
But social media's war on terror isn't over. Twitter said that there's no "magic algorithm" for finding terrorists' content on its network. Hunting down terrorists online is not an exact science.
"Global online platforms are forced to make challenging judgment calls based on very limited information and guidance," the company said.
Twitter also noted that it has observed an increase in terrorist activity on other online forums as a result of its anti-terror actions.
Related: ISIS cuts its fighters' salaries by 50%
U.S. government officials and major tech companies met in Silicon Valley last month to discuss how to stop ISIS from recruiting terrorists on social media. The Obama administration had asked the companies to develop "techniques to detect and measure radicalization."
The government also hopes tech companies will block pro-ISIS messages, photos and videos. Facebook (FB), Google (GOOG), Apple (AAPL), Microsoft (MSFT) and LinkedIn (LNKD) have all voiced support for the administration's efforts.
ISIS' use of social media to recruit potential terrorists has become an issue on the presidential campaign trail as well.
Donald Trump has called for a shutdown of the Internet in certain areas to stop the spread of terror. He recommended that the U.S. government hold a discussion with Bill Gates to shut off parts of the Internet.