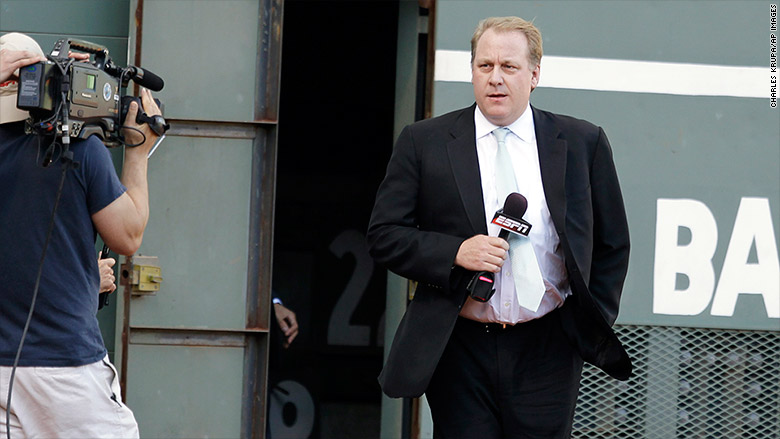 Federal Election Commission filings confirm two things about Curt Schilling: The former star pitcher donated to a Republican presidential campaign last year, and he wasn't sure how much longer he would be employed by ESPN.
Schilling, the former World Series champion who has covered baseball for ESPN since 2010, donated $250 to Ben Carson on September 1, 2015, according to a publicly available report from the Federal Election Commission.
The timing of the contribution was notable. One week prior, Schilling was yanked off ESPN's coverage of the Little League World Series for posting a now-deleted tweet that compared Muslims to Nazis.
In his filing to the FEC, Schilling indicated that his time at ESPN might be running out. Under the section marked "name of employer," Schilling wrote, "ESPN (Not Sure How Much Longer)." Under "occupation," Schilling said, "Analyst (For Now Anyway)."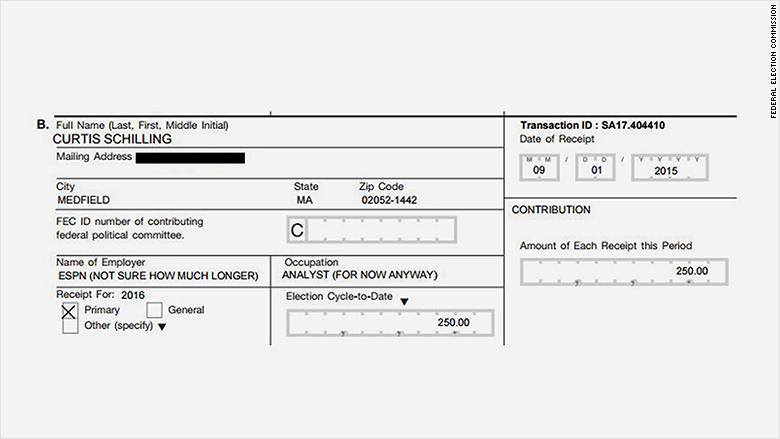 Schilling dismissed the significance of those comments.
"I was being a smart alec online in a document no one should care to see or read," he told CNNMoney in an email. "If that's newsworthy doesn't that signal a much bigger problem on the media's end?"
Two days after the donation to Carson was filed, ESPN went further with its discipline, suspending Schilling for the remainder of the Major League Baseball regular season and the wild card playoff game.
Last month, ESPN announced that Schilling will be removed from the network's marquee "Sunday Night Baseball" broadcast. Schilling will instead call games on ESPN's "Monday Night Baseball" for the upcoming season.
Schilling has long been politically outspoken.
His social media accounts have become troves for conservative memes, but none ever sent him to the corporate doghouse before his incendiary tweet last August. The tweet included a photo of Adolf Hitler accompanied with the caption, "It's said only 5-10% of Muslims are extremists. In 1940, only 7% of Germans were Nazis. How'd that go?"
Related: ESPN benches Curt Schilling for the rest of MLB season
Schilling appended his own commentary to the tweet. "The math is staggering when you get to true #'s," he wrote. After he was suspended, Schilling took to Twitter to apologize.
ESPN is sensitive about its employees venturing into political waters. The company provided guidelines to its on-air talent last month on how to approach the presidential election, saying that they should "refrain from political editorializing, personal attacks or 'drive-by' comments regarding the candidates and their campaigns" and that "perceived endorsements should be avoided."
An ESPN spokesman said that its employees are not prohibited from making political donations. The spokesman declined to comment on Schilling's written remarks on the donation form.