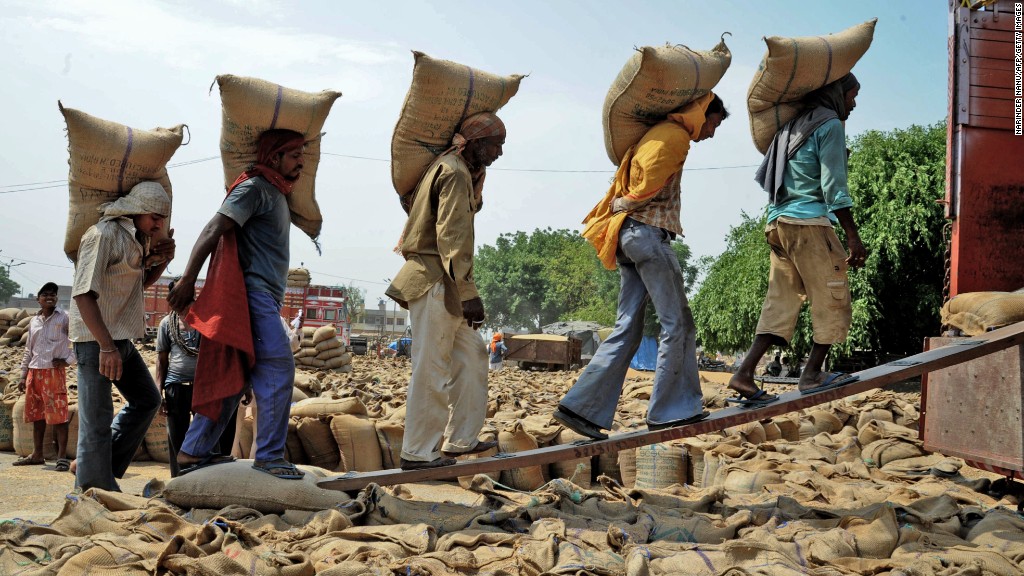 India has once again posted growth of more than 7%, securing its standing as the world's fastest growing major economy.
Official data released Monday showed GDP grew at an annual rate of 7.3% in last three months of 2015, a tad weaker than the previous quarter but in line with forecasts.
The country's manufacturing sector is booming, and the Indian government is forecasting GDP growth of 7.6% for the current financial year ending March 31 -- a much faster pace than China will deliver.
India is getting a big boost from cheap oil but will have to enact significant reforms to sustain growth at this pace. Many analysts are now concerned that Prime Minister Narendra Modi may not be able to push his policy agenda through a fractured legislature.
Related: World's biggest economies
Parliament failed to produce major economic reforms in the second half of 2015. A key plan to modernize India's goods and services tax, which would help smooth trade and standardize costs, again failed to gain enough support.
Adding to worries, the country's statistics have came under scrutiny. A year ago, India's number crunchers changed the base year used to calculate national accounts, and made adjustments to better reflect manufacturing activity. Overnight, the growth number went from below 5% to more than 7%.
The dramatic revisions upended the prevailing narrative, which portrayed India's economy as one that was struggling to gain traction, even if it was headed in the right direction following Modi's election in 2014.
Related: 5 stunning facts about India's railways
Analysts say real growth is almost certainly weaker than the government figures suggest.
"Doubts over the accuracy of the new data series, due to the lack of correlation with other activity indicators, make forecasting India's GDP difficult," said Capital Economics.
In a paper published late last year, India's finance ministry acknowledged uncertainty in the GDP data. The economy, they said, is sending "mixed signals" and indicators are "not always pointing in the same positive direction."
"Understanding the real economy and the pace and strength of economic recovery is unusually difficult this year," finance officials wrote.
Related: Is India primed for 9% growth?
The lack of clarity is likely to complicate India's budget process. Finance Minister Arun Jaitley is preparing to deliver his third annual budget on Feb. 29, a process that would be helped by accurate growth and tax revenue projections.
Should opposition parties adopt a more conciliatory stance during the upcoming budget session of parliament, Modi could secure approval for bills supported by the business community that would, among other things, streamline a convoluted bankruptcy process.