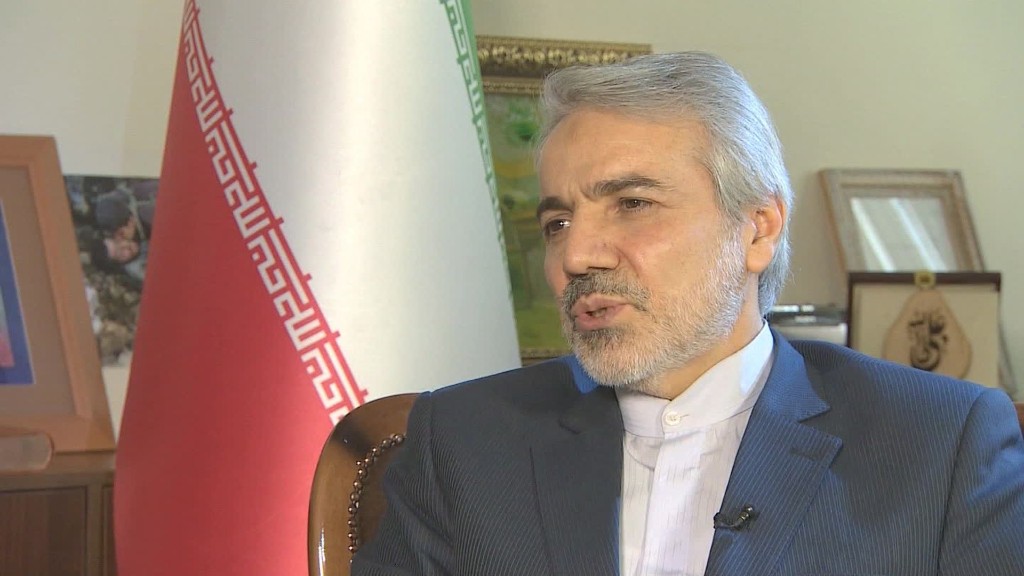 Iran is ready to sell its oil to the world again, but it wants to be paid in euros, not dollars.
Over the weekend, a top official at Iran's state-owned oil company said the country had a strong preference for euros.
"Our top priority is to receive cash and oil [payments] in euro," Safar-Ali Karamati, a deputy director at the National Iranian Oil Company, told an Iran news outlet on Saturday.
It's the latest sign of Iran deepening business ties to Europe since many sanctions were lifted in January.
In Iran's eyes, "anything other than the dollar would be financially and politically better," says Majid Rafizadeh, a Middle East scholar at Harvard University.
This is not the first time Iran has tried to move away from the U.S. dollar. But the global oil market trades in U.S. dollars, not euros, which makes Iran's demand complicated.
Related: Global currency collapse: Winners and losers
"Iran has long attempted to switch to euros or other local currencies for its exports for several reasons including Tehran's deep-rooted animosity toward the U.S.," says Rafizadeh.
Relying less on the dollar would also decrease the shock if the U.S. decides to impose more sanctions on Iran later on.
The currency market took little notice of Iran's statement.
"If Saudi Arabia made that comment, it would be a big deal," says Win Thin, global head of emerging market currency strategy at Brown Brothers Harriman.
Moving to euros could actually backfire for Iran. Brown Brothers is one of many firms predicting that the euro's value will continue to decline in value against the U.S. dollar, especially if the Federal Reserve continues to raise interest rates.
Related: Why U.S. businesses are losing out in Iran
European companies have struck a number of deals with Iran in recent weeks. In contrast, many American sanctions remain in place, making it difficult for U.S. firms to sell goods in Iran or for a company like McDonald's (MCD) to open restaurants there.
In a telling example, Iran ordered 118 new planes from France's Airbus (EADSF), not U.S.-based Boeing (BA).