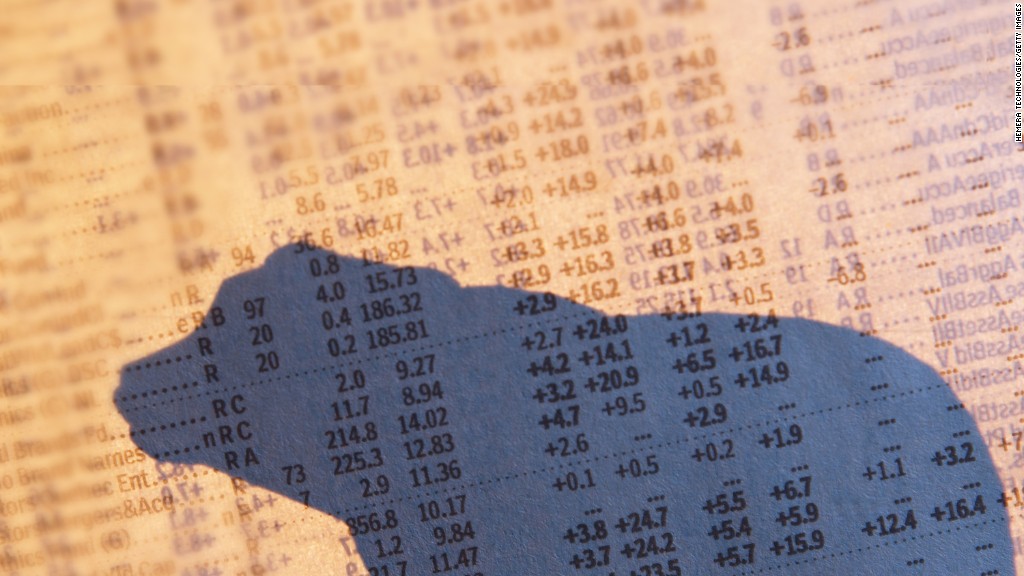 How bad is the tech wreck on Wall Street?
Only seven stocks in the Nasdaq 100, an index that includes the largest non financial stocks on the exchange, were up this year as of late morning trading Tuesday.
Just two of those stocks are tech companies -- and they are barely in positive territory. Tech heavyweights on the Nasdaq 100 like Apple (AAPL), Alphabet (GOOGL), Microsoft (MSFT), Facebook (FB) and Amazon (AMZN) are all firmly in the red.
Here are the members of the ultra-exclusive Nasdaq 100 winners club.
Mattel (MAT): up 14.5%
Fastenal (FAST): up 7.1%
Paccar: (PCAR) up 5.1%
Comcast: (CMCSA) up 1.7%
Ross Stores (ROST): up 0.7%
Fiserv (FISV): 0.3%
Xilinx (XLNX): 0.3%
Xilinx and Fiserv are the two tech companies. And they're not exactly household names.
One of the main reasons Xilinx is up is due to takeover speculation. Intel (INTC) bought one of Xilinx's key rivals, Altera, late last year.
And while Fiserv is officially classified as a technology company, you could argue that it is more a financial services firm. It's in the business of payment processing.
Related: Why the Nasdaq is on the verge of a bear market
So what about the four biggest gainers?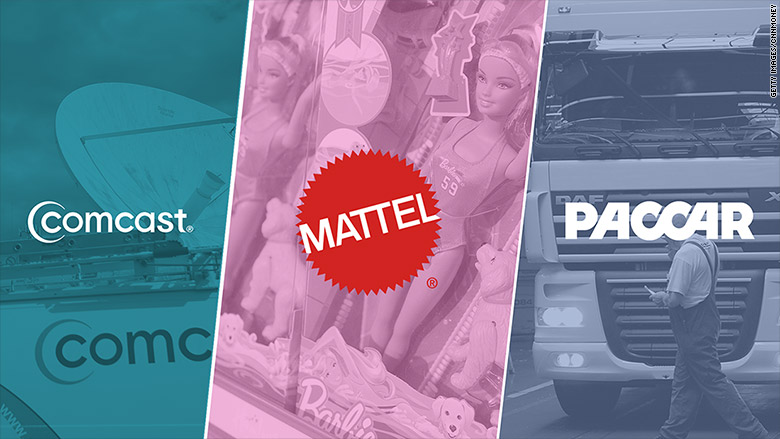 Mattel is rebounding thanks to an uptick in sales during the holidays -- particularly for Barbie. Investors hope Mattel's new management team has a sustainable turnaround strategy. Rumors of a possible merger with Hasbro (HAS) haven't hurt either.
You probably haven't heard of Fastenal. But the construction supplies company has reported decent sales so far this year. Its main product -- as its name sort of implies -- is fasteners.
That may not sound all that exciting. But its 2.8% dividend yield is in this low-rate environment.
Paccar is another company you may not be familiar with -- but you may recognize some of its top brands. The company makes big frieght trucks, including Kentworth and Peterbilt.
Related: Stocks remain turbulent after global selloff
Paccar reported record results for 2015 in late January. And like Fastenal, it offers a solid dividend that yields just under 2%.
Finally, there's Comcast. You might call the company quasi-tech with a little bit of media thrown in as well.
But the stock is up because the cable giant's latest results were very impressive. Comcast actually added video subscribers in the fourth quarter. So much for cord cutting? Comcast also reported a much bigger increase in high-speed Internet customers.
And the company's NBCUniversal unit reported strong jumps in revenues and operating profits thanks to the big blockbusters "Jurassic World" and "Minions."
Comcast's dividend yields 1.85% as well -- not too shabby with the 10-Year Treasury yielding just 1.74%.
But the frustrating thing for investors is that -- other than the dividends -- there is really no overarching trend to explain why this year's market leaders are holding up as well as they are.
It just goes to show that there is still some merit to picking individual stocks instead of just buying an index fund.
And how's this for irony? Even though the Nasdaq is down 15% this year, the company Nasdaq (NDAQ) is up 4%. (Nasdaq Inc. is classified as a financial stock. So it's not included in the Nasdaq 100.)
There's a saying that there's always a bull market somewhere. Congratulations if you were smart (or lucky) enough to predict there would be one for toys, trucks and TV.