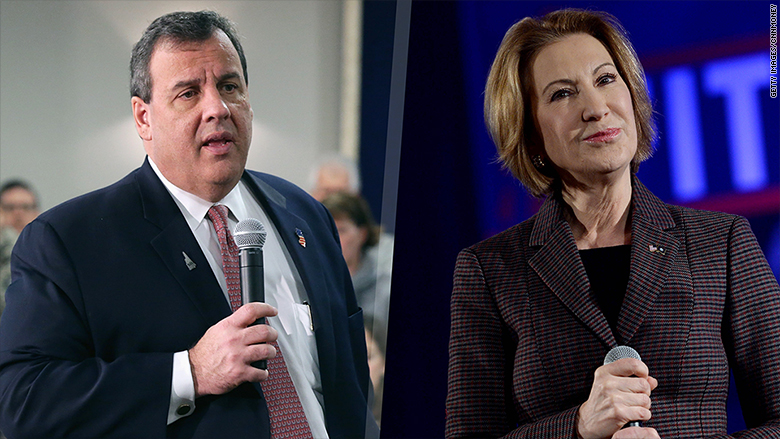 CBS News has announced criteria for Saturday's Republican primary debate that could keep one or more candidates off the stage.
Donald Trump, Ted Cruz and Marco Rubio are all guaranteed an invitation to the debate because they finished in the top three in the Iowa caucuses.
For the other candidates, it will require finishing in the top five in Tuesday night's New Hampshire primary, or in the top five in an average of national and South Carolina polls. Those polls must be approved by CBS News and released before noon on Feb. 12.
If the polls are to be trusted, both Carly Fiorina and Chris Christie are under threat of being excluded from the CBS debate.
Related: ABC's GOP debate: Best ratings of 2016
Fiorina, who was kept off the stage during Thursday night's ABC News debate, is polling seventh in New Hampshire, eighth in South Carolina and eighth nationally. Christie is polling sixth in New Hampshire, sixth in South Carolina and seventh nationally.
That could change after Tuesday night. Christie had a strong showing at the last debate, which may not be reflected in the polls. Meanwhile, Ben Carson is expected to perform poorly in New Hampshire and could see his support wane elsewhere.
And to be clear: There is no undercard debate. It's the mainstage or bust.
Sign up for the Reliable Sources newsletter
The CBS News debate will take place in Greenville, S.C., on Saturday, one week before the state's primary. It will be moderated by "Face the Nation" host John Dickerson, along with CBS correspondent Major Garrett and Wall Street Journal columnist Kimberly Strassel.