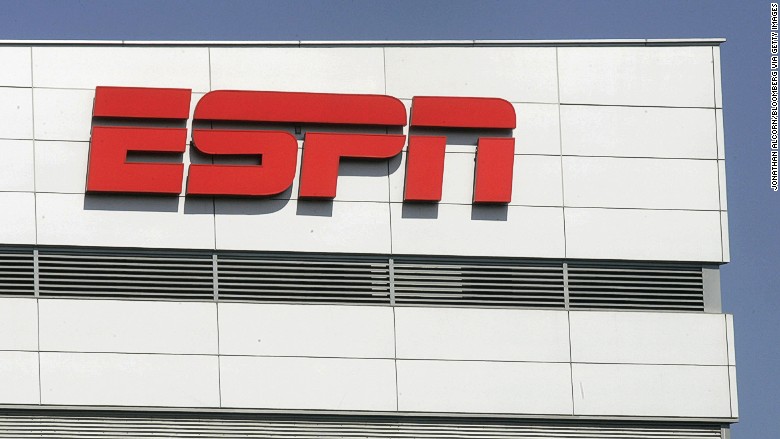 Disney's most important brand, ESPN, saw an increase in subscribers but it wasn't enough to please Wall Street on Tuesday.
During a Tuesday earnings call with investors, Disney (DIS) CEO Bob Iger announced that the sports network had an "uptick" in subscribers over the last couple of months.
Iger cited an interest of sports and smaller cable bundle packages like Sling had helped to bring in young people and cord-cutters to cable packages leading to the uptick
According to Iger, the company also had its "greatest single quarter in the history" thanks to "Star Wars: The Force Awakens" which propelled the Mouse House to record box office totals.
Related: Viacom sales and profit continue to slide amid executive turmoil
Yet, the news wasn't good enough for Wall Street.
The company's stock was down as much as 6% in after hours trading on Tuesday evening. It ended the after hours trading down roughly 3%.
Before the call, Iger told CNBC that ESPN continues to be a growth business and that "the prediction that there would be a rapid demise of the [cable] bundle is way too exaggerated."
Disney reported overall revenues of $15.2 billion with huge growth in its studio entertainment thanks to "The Force Awakens."
"Star Wars: The Force Awakens" just crossed $2 billion at the box office globally and the company hopes to sustain the film's obsessive fandom with "Rogue One: A Star Wars Story" hitting theaters in December.
Sign up for the Reliable Sources newsletter
The company's cable networks, which includes ESPN, reported revenue of $4.5 billion which exceeded analyst predictions of $4.4 billion.
The company's earnings came following a day that saw some media stocks take a hit including Viacom which saw its shares plunge 21%.