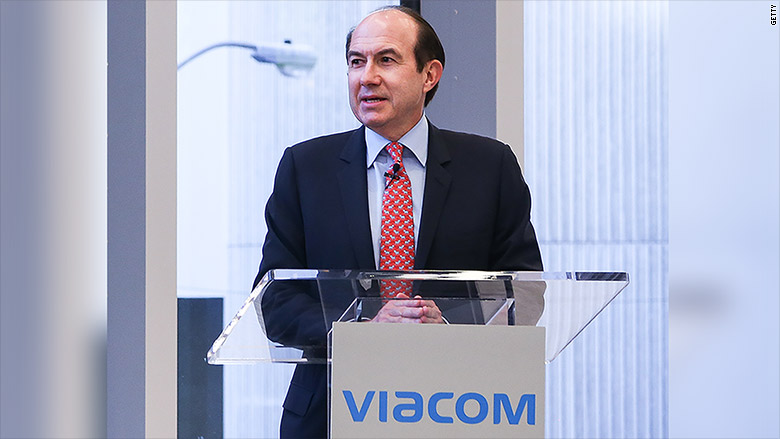 Viacom is facing problems well beyond its executive turmoil.
The embattled media conglomerate is struggling as sales and profit continue to slide. In the final three months of 2015, Viacom (VIA)'s revenue fell 6% year-over-year, to $3.2 billion, while profit fell 10%, to $449 million.
After the company's earnings were released Tuesday morning, shares plunged 21%.
Much of the attention on Viacom has been focused on the management upheaval, as ailing 92-year old controlling shareholder Sumner Redstone gave up his executive chairman title last week amid allegations by a former girlfriend that he is no longer competent to make decisions for himself.
Redstone's daughter Shari, the vice chairman of the company, opposed the promotion of CEO Philippe Dauman to executive chairman at last week's board meeting. Activist investors have also targeted Dauman.
But he has the support of the rest of the Viacom board. And on Tuesday morning he defended his performance, saying, "Our outlook and the facts have been distorted and obscured by the naysayers, self-interested critics and publicity seekers. We will not be distracted or deterred as we build for the bright future ahead of us."
Wall Street is skeptical. While Dauman said "our investments in content, technology and strategic innovation are now beginning to bear fruit," several prominent analysts sounded bearish.
Related: Viacom struggles but top executives make tons of money
Bernstein Research analyst Todd Juenger said "We continue to hold the view that the old business of serving kids/teens with linear TV networks is doomed, and the new business of serving kids/teens with on-demand, digitally delivered entertainment is unlikely to be won by Viacom."
At the same time it issued quarterly earnings, Viacom extended a deal to sell ads on Snapchat, but Juenger said it doesn't change the outlook for the company. If anything, Snapchat's rise will impair Viacom further, he said.
Viacom includes the Paramount movie studio and cable channels such as Comedy Central, MTV, BET, Nickelodeon, and Spike.
Revenue tumbled at both the network and studio units. Profit declined only slightly for Viacom's networks despite ongoing programming challenges at MTV and the loss of both Jon Stewart and Stephen Colbert at Comedy Central.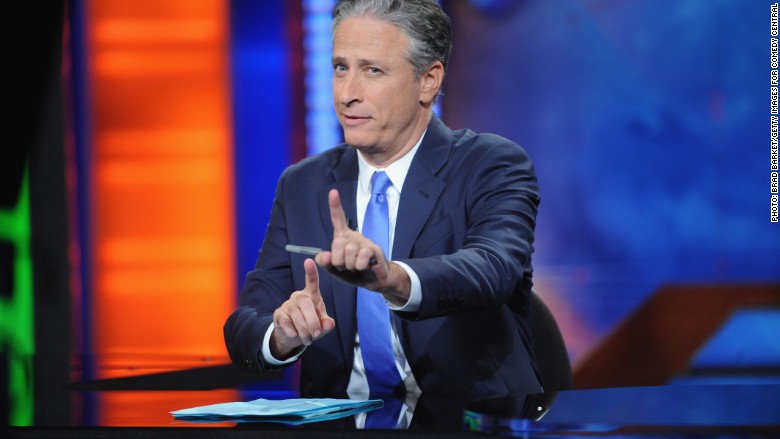 But operating losses more than doubled at Paramount, which had only two films that were on more than 2,000 U.S. movie screens during the period -- comedy "Daddy's Home" and action movie "Mission Impossible: Rogue Nation."
MoffettNathanson senior analyst Michael Nathanson said the quarter "provided some positive signs of momentum" for Viacom, like TV advertising revenue growth in the United States, but also "some lingering issues," like Paramount.
Investors remain concerned about whether Viacom will be able to strike a new deal with Dish Network, one of its biggest distributors. Dauman said Tuesday that the two companies have signed a short-term extension while they continue to negotiate.
If Dish were to drop Viacom, deeming its channels unnecessary to have, it would send a chill through the TV business.
Declining revenue and earnings have dogged Viacom for quite some time. Sales has fallen for the previous four years and profit has been down each of the last two years.
Other media conglomerates are facing similar challenges as consumers watch more and more TV online, but Viacom has generally underperformed its competitive set.
Redstone also recently gave up his executive chairman title at CBS (CBS), a company he spun out of Viacom ten years ago.
But CBS hasn't been struggling the way Viacom has. It has a diverse slate of hit shows and just televised the Super Bowl, which scored record $5 million prices for 30-second ads and was the third highest rated TV show in American history.