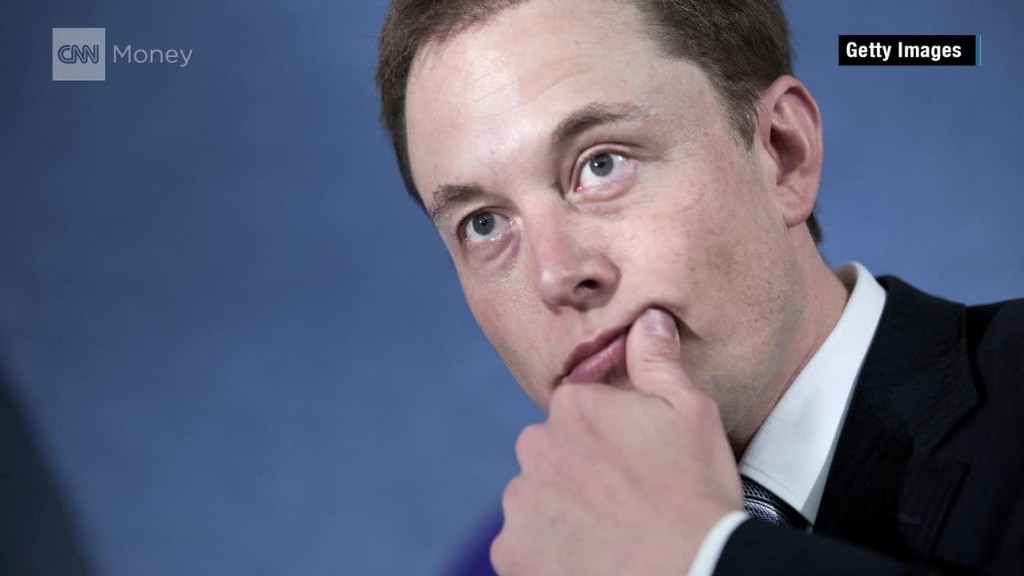 Elon Musk is still a lot richer than you.
And by you, I mean the average CNNMoney reader. If Bill Gates, Warren Buffett, Mark Zuckerberg, Jeff Bezos or one of the Koch brothers happens to be reading this, then my bad! Musk is a destitute street urchin compared to you guys.
But Musk is having a really awful year. He has lost more than $3 billion (on paper) due to the plunging stock prices of the two companies in which he is the largest shareholder -- electric car maker Tesla (TSLA) and alternative energy company SolarCity (SCTY).
Tesla, which will report its latest results after the closing bell on Wednesday, has plummeted more than 35% this year due to concerns about production delays for its new Model X SUV and worries that low gas prices will reduce demand for electric cars.
Musk is the co-founder, CEO and chairman of Tesla. He owns a 22% stake in the company that was worth about $6.8 billion at the start of the year and is now valued at around $4.4 billion.
Related: Tesla's worst nightmare ... cheap gas
And SolarCity, which warned late Tuesday that it expects bigger losses in the first quarter and a slowdown in the pace of its solar panel installations, is down more than 60% this year. That includes a 30% drop on Wednesday.
Musk is the chairman of SolarCity. His cousins Lyndon and Peter Rive are the co-founders. Musk owns a 22% stake in SolarCity. His investment was valued at nearly $1.1 billion at the end of 2015. Now? $390 million.
Related: Nevada's perplexing war on solar
SolarCity hit a snag in Nevada late last year. It decided to end operations in the state after the Nevada Public Utilities Commission cut subsidies for solar customers in December. It's bad news if other states follow suit.
And Musk's loss is actually Buffett's gain. The Oracle of Omaha's Berkshire Hathaway (BRKB) owns NV Energy, the largest electric utility in Nevada.
But don't shed too many tears for Musk. His overall net worth is still estimated to be somewhere between $8.5 billion and $10.6 billion based on estimates from Bloomberg and Forbes.
Related: SpaceX wants to send people to Mars by 2025
Musk made a killing as a co-founder of PayPal (PYPL) and is also the founder of privately-held rocket company SpaceX, which is worth $12 billion according to startup tracker CB Insights. Musk invested $100 million of his own money in SpaceX.
Still, there's no denying that Musk seems to have lost a little bit of his Midas touch when it comes to stocks. With investors now terrified to touch anything that seems remotely risky, profits are much more important than the cult of personality.