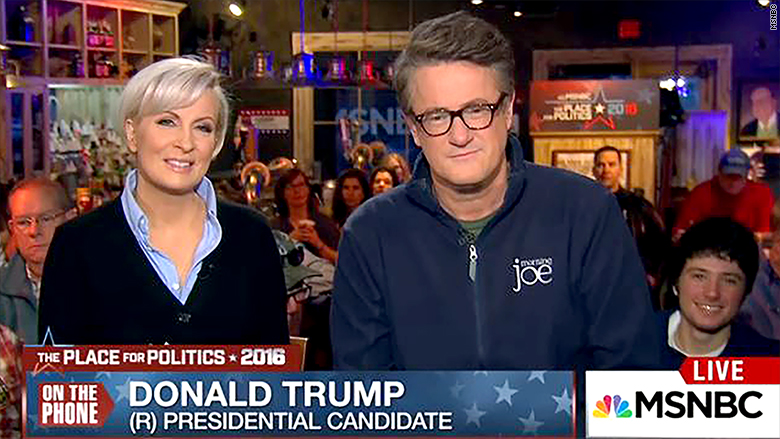 A day after his resounding victory in New Hampshire, Donald Trump made a point to thank two of his "supporters" -- the hosts of MSNBC's "Morning Joe."
"You guys have been supporters," Trump told co-hosts Joe Scarborough and Mika Brzezinski at the end of an interview on Wednesday. "And I really appreciate it. And not necessarily supporters, but at least believers. You said there's some potential there."
Trump also told the hosts "it was great" seeing them the previous evening. Scarborough and Brzezinski visited Trump's hotel room on Tuesday night while the New Hampshire primary results were rolling in, according to two sources with knowledge of their visit. Scarborough and Brzezinski did not respond to a request for comment.
After this article was published, Scarborough posted a series of tweets accusing CNN of lying about him. "Your sources are wrong," he wrote. Scarborough did not explicitly deny that he visited Trump's hotel room, however.
Trump has a unique relationship with "Morning Joe." He's appeared on the show far more than any other MSNBC program -- although most of those "appearances" have come over the phone, as was the case Wednesday.
Scarborough and Brzezinski also have a personal history with Trump that has been palpable in those interviews. Last month, conservative radio host Hugh Hewitt even floated the possibility of Scarborough serving as Trump's running mate. Scarborough shot down the idea.
But the hosts, clearly uncomfortable with the "supporter" label, sought to clarify Trump's comments on Wednesday.
"When you say supporter, you're obviously talking about how actually ... there were a handful of people who for six months have been saying what happened last night could happen and the rest of the media world has been mocking and ridiculing exactly what he's done," Scarborough said.
Brzezinski, who's more liberal than her Republican co-host, was quick to point out that she hasn't always agreed with Trump.
"It's not like Donald and I have the same worldview," she said. "But we knew that he could do this from the get-go, so I think the sense is that we believed that his talents actually could follow through and translate into something while everyone else underestimated him."
The show hasn't always provided cozy confines to Trump. In December, Brezinski told the GOP frontrunner that he was "scaring" her with his calls to ban Muslims from entering the United States. And in that same interview, Scarborough cut to commercial when Trump refused to stop talking.
Still, "Morning Joe" is far friendlier territory for Trump than MSNBC's other more left-leaning shows. And it's true that Scarborough and company have been bullish on Trump's chances.
When Trump opted to skip last month's GOP debate on Fox News, Scarborough said on Twitter that it was foolish to doubt the candidate.
"Anyone thinking Trump loses this game of chicken hasn't been paying attention for the past 6 months," he said.
--CNN's Dylan Byers contributed reporting from New Hampshire.