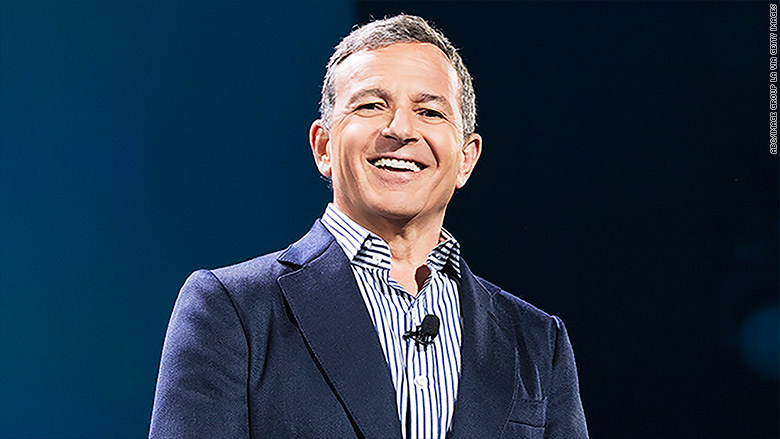 Shares in several major media companies flirted with 52-week lows on Wednesday amid a new wave of concerns about the health of their core cable channel businesses.
The Walt Disney Company (DIS), the biggest of them all, was down 3.7% at the end of trading Wednesday. While the company reported strong quarterly earnings after the bell on Tuesday, investors paid more attention to Disney's acknowledgment of continued ESPN subscriber declines.
The vast majority of American homes still pay for big bundles of channels. But the cutbacks by a relatively small number of consumers are nonetheless disturbing to investors.
Other media companies have different challenges to contend with. Time Warner (TWX), for instance, had a weak film slate in the fourth quarter, which dragged down revenues. Time Warner shares fell nearly 5% Wednesday.
What unites all of the companies is the specter of cord cutting.
While only a small number of American homes have stopped paying for cable entirely, some have opted for smaller packages -- so-called "skinny bundles" -- that don't automatically include channels like ESPN.
Wall Street analysts sometimes call this "cord shaving." It has pinched the bottom lines of media companies that depend on per-subscriber revenue for their channels.
Disney CEO Bob Iger told investors Tuesday that "in the past couple of months we have actually seen an uptick in the ESPN subs, which is encouraging."
Year-over-year, however, there has been a decline in the number of homes receiving ESPN. Disney has not provided exact figures.
Iger and other media executives have decried over-the-top predictions about an impending unspooling of the cable bundle. The business is fundamentally healthy, they say, as most households see the value of a monthly cable plus broadband subscription.
Iger said Tuesday that the predictions are "more dire than they should be."
Earlier in the day, Viacom (VIA) CEO Philippe Dauman -- under fire from activist investors who want to see him replaced -- said "our outlook and the facts have been distorted and obscured by the naysayers, self-interested critics and publicity seekers."
Viacom stock fell more than 20% on Tuesday. It dropped another 4.5% on Wednesday.
Other media heavyweights also wobbled. Comcast (CCV) was down 4.1% while 21st Century Fox (FOX) was up slightly.
Time Warner, which reported fourth quarter earnings on Wednesday, had several bright spots, including rising revenue at the HBO and Turner divisions. The company also raised its quarterly dividend and slightly raised its adjusted profit forecast for 2016, to somewhere between $5.30 and $5.40 per share.
Three months ago Time Warner slashed its profit forecast from "close to $6" per share to $5.25 per share.
But the big news on the company's call with investors was about HBO. Time Warner CEO Jeff Bewkes deflected recent calls for a spin-off of HBO or Turner, asserting that the company is better together. Time Warner is the parent company of CNN.
Amid much speculation about the performance of HBO Now, the company's subscription streaming version of the network, HBO CEO Richard Plepler said it has 800,000 paying subscribers.
The New York Post reported earlier on Wednesday that the service "has gotten off to a slow start."
Plepler said on the investor call that "we're just getting started" and that "we're going to make a lot of progress" with HBO Now.