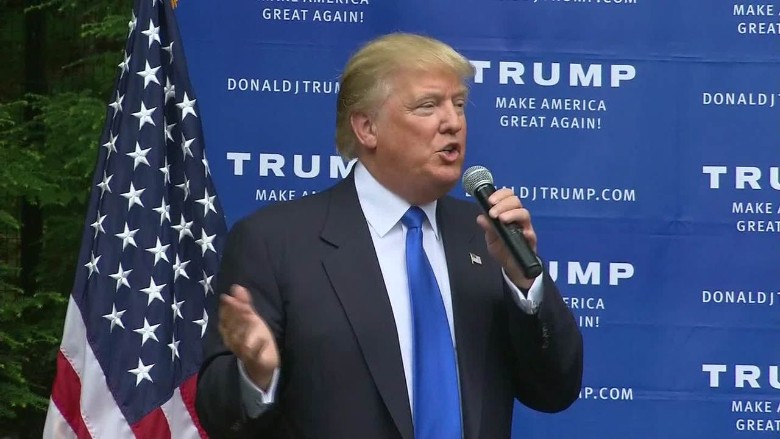 Donald Trump and Univision have settled the lawsuit that arose when Univision dumped Trump's Miss USA pageant telecast.
"The terms of the settlement are confidential," the two sides said in an announcement Thursday afternoon.
Trump sued Univision, the biggest Spanish language broadcaster in the United States, for $500 million last summer.
Trump and the CEO of Univision, Randy Falco, issued peacemaking statements.
"I have known Donald Trump for many years in both a personal and professional capacity and we are pleased to settle this matter and move forward," Falco said.
"I'm glad we are able to put these differences behind us," Trump said.
A Univision spokeswoman declined any further comment.
Related: Donald Trump 'too thin skinned,' Univision says in court papers
The amicable resolution comes at a time when Trump's focus is on winning the Republican presidential nomination. His campaign is looking ahead to several primary states, including Nevada and Florida, with large numbers of Univision network viewers.
Trump's lawsuit stemmed from Univision's decision to back out of plans to carry the Miss USA pageant, an event that was half owned by Trump at the time.
Related: Donald Trump maintains Univision press ban
Univision said it canceled the July 12 telecast because it could not remain in business with a presidential candidate who had offended many Hispanics. (In his June 16 presidential campaign announcement, Trump had depicted Mexican immigrants as criminals and "rapists" before adding, "Some, I assume, are good people.")
NBC canceled the telecast as well. Trump threatened legal action against NBC, but eventually struck a deal with the network.
Related: Donald Trump in deal to sell Miss Universe pageant
His battle with Univision was more protracted.
Trump's side initially accused Univision of engaging in a "politically motivated attempt to suppress Mr. Trump's freedom of speech under the First Amendment as he begins to campaign for the nation's presidency."
Trump's attorneys asserted that Univision was "required to broadcast the pageant live" and was breaching the contract by backing out.
Univision called Trump's lawsuit "both factually false and legally ridiculous."
The suit slowly worked its way through the courts.
Sign up for the Reliable Sources newsletter
In the meantime, Trump's campaign sometimes blocked Univision reporters from covering his events.
In October, after Univision staffers were denied press credentials for a Trump rally in Florida, a campaign spokeswoman told CNN, "Mr. Trump is suing Univision for $500 million and until that is resolved it is a conflict of interest."