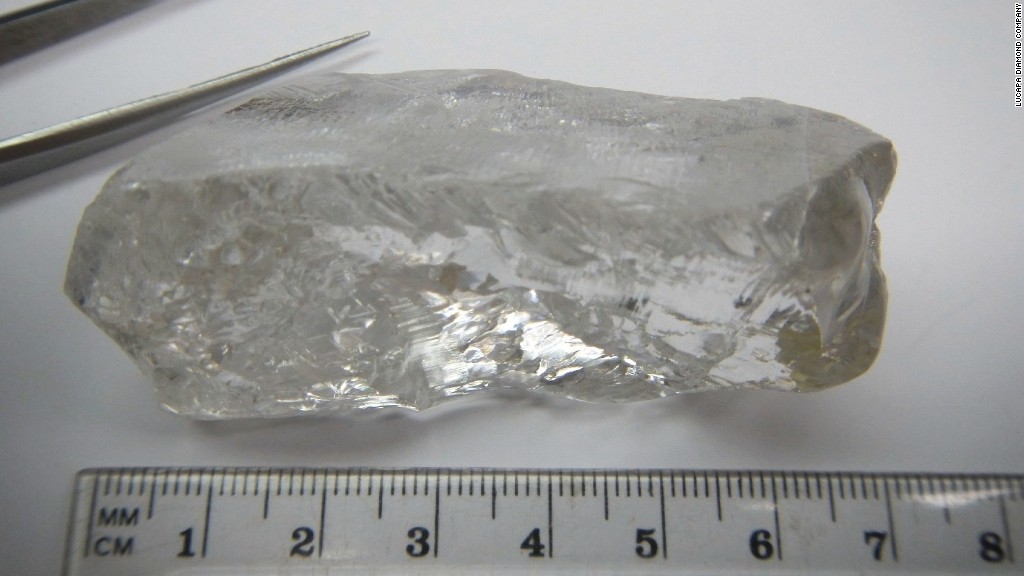 A massive diamond among the largest ever discovered was recently unearthed in Angola, mining company Lucapa announced Monday.
At 404.2 carats, it measures about 7 cm across -- about the length of a credit card, Lucapa said.
It was mined by the Lulo Diamond Project, a partnership between Endiama, Angola's national diamond company, Lucapa Diamond Company, and a private investor, Rosas & Pétalas.
Related: $134,700 one-of-a-kind trip for fashionistas
New York-based diamond retailer Yehuda tested the new diamond's color and clarity, according to Lucapa, and categorized it as a Type IIa stone -- meaning it's virtually flawless.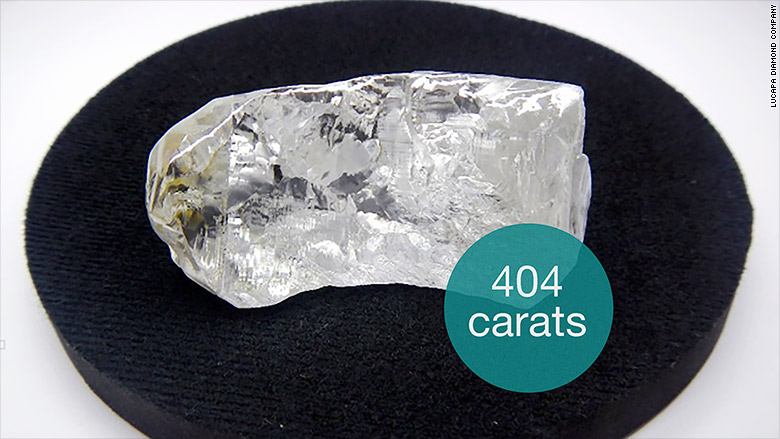 It's also D-colored, or entirely colorless, Lucapa said. That is the rarest -- and likely most valuable -- color grade for a white diamond, according to the Gemological Institute of America.
The Lulo Diamond Project began exploring a 1,148 square-mile plot of land in central Angola in 2015, and the area has so far produced more than 60 "large special diamonds," the company said.
Lucapa, a relatively tiny diamond exploration company, is traded on Australia's ASX stock exchange under the symbol LOM. It suspended trading a few days in advance of the announcement. When Lucapa resumed trading on Monday, its shares jumped 30%.
Chairman Miles Kennedy told ABC Australia that the historical find could be worth about $20 million.
Related: Gulfstream's new $54 million jet: Here's what you get
Angola is the world's fourth biggest country for diamond production. The 404.2 carat gem is now the largest to ever come out of the country, topping the 217.4 carat gem found in 2007 and dubbed the "Angolan Star."
The world record was a 3,106 carat gem, called the "Cullinan." It weighed in at a massive 1.3 pounds and was discovered in South Africa in 1905. That stone was cut to adorn the royal sceptor, one of Britian's crown jewels, and is on display at the Tower of London.
"Cullinan" was nearly triple the size of the second largest diamond on record, which weighed 1,111 carats and was found in November 2014.
The diamond discovery announced Monday would make it the 27th largest diamond ever recorded.
--CNN's Justin Lear contributed to this report