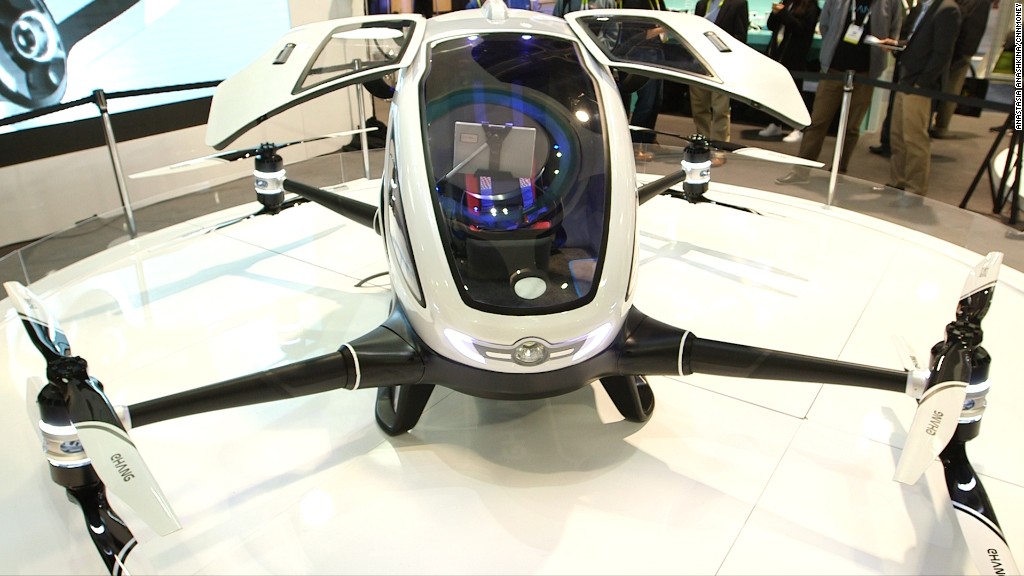 Shares in the biggest tech stocks are getting hit. Startup valuations are being radically cut.
And yet, there are two bright spots shining in 2016: Drones and virtual reality.
At the Consumer Electronics Show in Las Vegas last month, I was blown away by the number of booths with nets surrounding them so that drone makers could show off their buzzing flying machines.
At CES, it was clear that China is winning when it comes to drones. Its lax regulations are helping it reap the benefits from the exploding drone market, forecast to hit nearly $6 billion worldwide by 2020.
Chinese company DJI, best known for its $699 "Phantom," is now the world's largest drone maker and a symbol of tech success in Shenzhen, China's Silicon Valley.
"If you look at the retail smartphone market, it's in a later stage of maturity. There's a great deal of competition and even talk of near-saturation," said DJI's global communications director, Adam Namberg. "That's very different from the drone market. The professional need for unmanned aerial systems is rising in agriculture, search & rescue, firefighting and industrial inspection."
In spite of China's economy cooling down, their drone companies are racing ahead and expanding into new areas. DJI is launching drones with thermal cameras (to spot the warmth from human bodies on rescue missions). Contrast that with California-based GoPro, which only recently announced plans for its own drone, but still doesn't have a release date.
Another Chinese company, eHang, is testing drones that are large enough to carry humans. It's completely automated, so the person sitting in the drone won't need any piloting skills.
Virtual reality still hasn't reached a mass market the way drones have, but that may all change with the long-awaited release of the VR headset from Oculus Rift in March.
When Facebook (FB) acquired Oculus for $2 billion in 2014, it paved the way for virtual reality to become mainstream.
Oculus has hired some of the world's top video game developers now. That's a feather in the cap for Facebook as well as VR at large, because analysts believe the gaming industry will be the first market virtual reality conquers.
Related: Future of Tech - robots and designer babies
The world's biggest tech companies are stepping up their virtual reality investments in 2016. Apple (AAPL) is acquiring virtual reality companies and hiring talent from top VR firms. Google (GOOG) is working on a higher-quality device, in addition to the low-cost "Google Cardboard" headset already on the market.
In spite of 2016's jittery markets, industries from gaming to Hollywood are investing in virtual reality and drones to keep their content relevant and competitive. The thirst from these industries has investors' eyes shifting from social networks and smartphones, to innovations that are still to come.