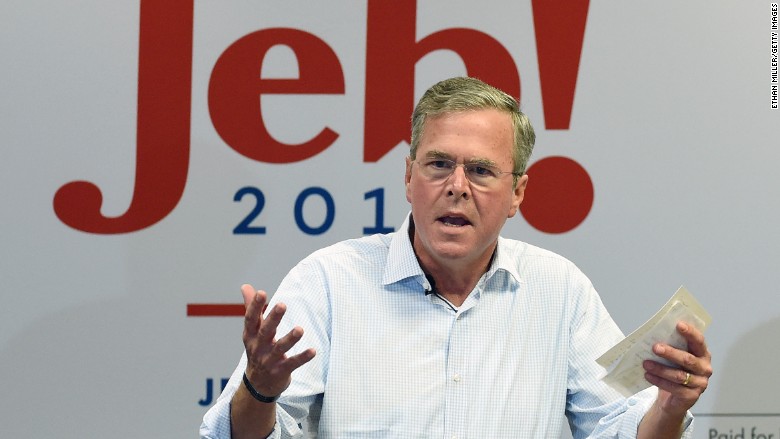 Jeb Bush's campaign is calling on CBS News to apologize for a report that cited jokes about the Republican presidential hopeful committing suicide.
"The network should apologize," Kristy Campbell, Bush's press secretary, told CNNMoney after the segment aired on Tuesday night's broadcast of the CBS Evening News.
In the report, CBS News correspondent Major Garrett said that social media was "abuzz" over a photo Bush had tweeted on Tuesday showing a firearm emblazoned with a personalized insignia that read, "Gov. Jeb. Bush."
"There were some people who were supportive, but many said, 'Your campaign is dying. Please, Governor Bush, don't take your own life.' Only in jest, but it shows you how painful things have become for Bush in South Carolina," Garrett reported.
Bush is struggling to gain momentum in South Carolina and is currently a distant fourth with under 10 points in an average of recent polls.
In an email, Campbell described the report as tone-deaf and "inexcusable."
"In addition to the mainstream-media's total lack of understanding when it comes to gun rights and gun culture, it is absolutely inexcusable to make light of suicide," Campbell wrote.
Both Garrett and CBS News did not immediately respond to a request for comment.
Related: Jeb Bush's pitch to South Carolina: A gun with his name on it
Bush's photograph of the firearm, which appeared under the word "America," was the talk of Twitter on Tuesday, drawing tens of thousands of retweets.
Bush tweeted the photo after visiting FN Manufacturing, a high-security firearm company in Columbia, South Carolina, for a town hall on Tuesday morning.
"The purpose was we went to a gun manufacturing facility where lots of jobs are created, high-wage jobs. And I received a gun and I was honored to have it," Bush said.