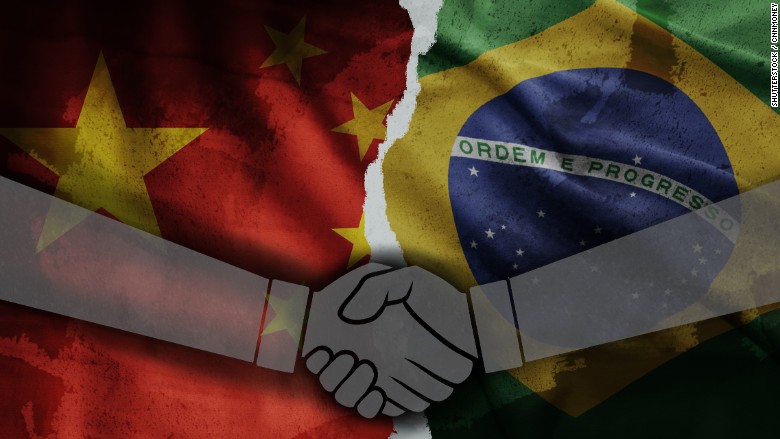 China is pumping billions into Latin America, but many of its investments are tanking.
Last year alone, China offered $65 billion to Latin America, it biggest bet yet. Many see the move as a power play to counter the U.S. influence in the region.
Perhaps the best example of China's growing ambitions -- and problems -- in the region is its plan to construct a railroad stretching 3,300 miles from Brazil's Atlantic coast to Peru's Pacific Coast.
It's a massive area that's equivalent to the distance between Miami and Seattle.
The Chinese government is used to implementing its vision quickly at home. Latin America moves much slower.
The railroad project is fraught with challenges, such as dealing with indigenous groups and environmental concerns, not to mention the sheer scale of laying that much track.
Related: Latin America: China's power play right under the U.S.
China's railroad in Colombia that never started
China has tried -- and failed -- with this game plan before. China had "quite advanced" plans in 2011 for a railway connecting connecting Colombia's Pacific and Atlantic coasts, according to an interview Colombia's President Juan Manuel Santos gave the Financial Times that year.
Five years later, no such railway exists. It isn't even under construction. Colombia's economic ministry didn't respond to a request for comment.
This smaller railroad would be one of China's most explicit power plays against the United States, creating direct competition with the Panama Canal.
Colombia should have been easy to work with. It is one of the best-performing economies in Latin America, and it's politically stable.
"Culturally, we are very different and sometimes it stops the projects," says Julian Salamanca, executive director of the Chamber of Colombian-Chinese Investment and Commerce.
China's bets in Latin America land in 'unstable' hands
From Mexico to Brazil, Chinese government and private projects have suffered extensive delays, been suspended or never even gotten off the ground. Corruption, cultural differences and bureaucracy in Latin America have halted momentum for many of them.
China "realized that some of these projects...ended up in very unstable political destinations," IMF economist Alejandro Werner said recently at the Council of Americas in New York.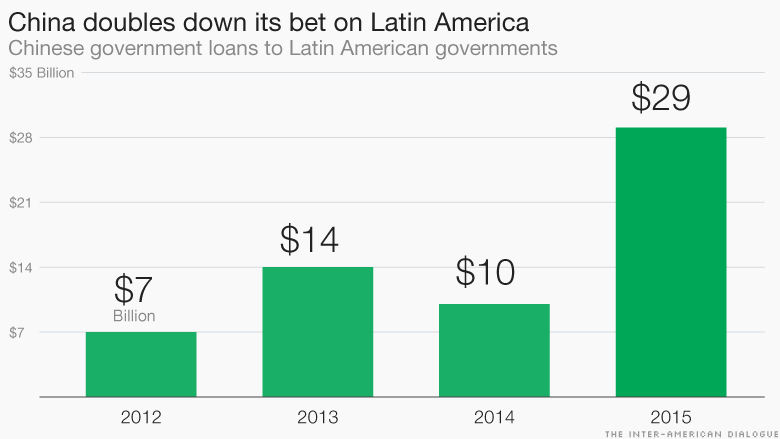 Werner has a point: China has dumped much of its cash into Brazil and Venezuela. Both are in deep recessions, and both have growing political instability. There are factions that want to impeach the current presidents, Nicolas Maduro in Venezuela and Dilma Rousseff in Brazil.
Brazil is suffering its longest recession since the 1930s and Venezuela is arguably the world's worst economy. The IMF projects inflation in Venezuela this year will skyrocket 720%.
Related: 5 reasons why Venezuela is in a 'meltdown'
China is trying to save itself in Venezuela
China targeted Venezuela because it has the world's largest oil reserves. China sees a long-term energy partner. Since 2007, China has loaned $65 billion to Venezuela alone, more than any other country in the region, according to the Inter-American Dialogue, a Washington non-profit.
That cash isn't doing much. Its economy is "imploding," says Werner. Falling oil prices have crushed Venezuela's oil-dependent economy.
Now China is trying to make sure its oil bet in Venezuela doesn't go belly up.
"They're now giving loans to protect their previous loans," says Boston University professor Kevin Gallagher, an expert on China-Latin America. "They're so overexposed in Venezuela."
Related: Brazil's bust is worse than we thought
China wants to challenge the Panama Canal
There are many more plagued projects. A private Chinese company, HKND, announced plans in 2013 to create a canal stretching across Nicaragua -- yet another attempt to challenge the U.S.-backed Panama Canal.
In November, HKND said it wouldn't begin construction until the end of 2016. Experts are still very skeptical a canal will even be built.
In 2014, Mexican officials awarded a $3.7 billion high-speed rail project to a Chinese-led group of companies -- only to withdraw the offer shortly after due to public outcry that the deal benefited allies of Mexico's president, Enrique Pena Nieto.
Related: Argentina offers to pay U.S. 'vulture' funds
There's a key test for China now
One Chinese firm, Chongqing Grain Group, announced a $2 billion project in 2011 to construct a massive plant for processing soy in rural Brazil. Latest news reports show the plant's location is still an empty field.
The company didn't respond to several calls from CNNMoney nor does it have any recent press release on its website regarding the plant in Brazil.
China has had some success in Latin America. It has built strong ties in a region rich in resources. In a telling sign, Mexico is again courting China to help finance its new airport in Mexico City.
But the transcontinental train, stretching from Brazil to Peru, will be a real test of China's resolve in Latin America.
"The project is going to encounter numerous challenges, and it's difficult to say at this point whether it will get off the ground," says Margaret Myers, a director at the Inter-American Dialogue.
CNNMoney's Sophia Yan contributed reporting to this article from Hong Kong.