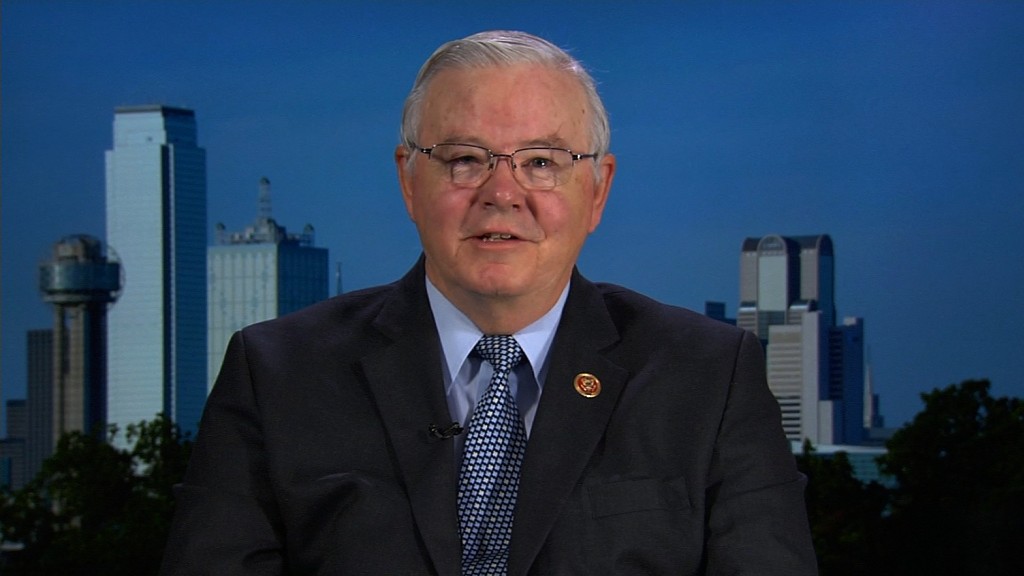 OPEC is dead, at least when it comes to dictating the price of oil on the global market, says one Texas congressman.
Joe Barton, who led the effort to lift the nation's oil export ban, says that U.S. producers will move to boost production and capture an additional share of the global oil market in the event that OPEC moves to cut production in an effort to lift oil prices.
The U.S. began exporting oil less than a month ago.
"What we've done by repealing the export ban is put the U.S. producer in the driver's seat. Quite frankly OPEC and Russia literally don't know what to do," he told CNN. "So we've killed OPEC. It's gone."
Many believe that the fact that major OPEC producers such as Saudi Arabia have refused to cut production would kill U.S. production by driving down prices and forcing some producers out of business. And indeed there has been a rash of bankruptcies in the nation's oil sector due to falling oil prices.
Related: Why people are freaking out about cheap oil
But U.S. oil production has only slipped slightly in the face of drastically lower oil prices. The nation produced 9.3 million barrels a day in November, according to the most recent figures from the Energy Information Administration. That's down only 4% from the record high production reached in April, and still slightly ahead of year-ago production levels.
And Barton says the ability of U.S. producers to ship oil to overseas markets will only lead to increased U.S. production. He said production could go as high as 15 million to 20 million barrels a day in coming years.
Related: Here's how much you'll save on gas this year
"Not only will the U.S. industry survive, it will flourish," he said. "The Saudi's can't increase production like that. The Russians can't, the Chinese can't. Only the U.S. can."
The price of oil has rallied recently after oil ministers from Saudi Arabia and Russia agreed to keep production at January's levels on Tuesday. But that deal will only take effect if other major producers do the same. Many analysts are skeptical about Iran's willingness to freeze production just as sanctions are expiring and the country is eager to ramp up output and reclaim its share of the world's oil market.
The impact of U.S. oil production on world market has taken away what used to be OPEC's strangle hold on the price of oil, Barton said.
"It used to be the 11 or 12 oil ministers could have a conference call and set the market. They can't do that now," he said.