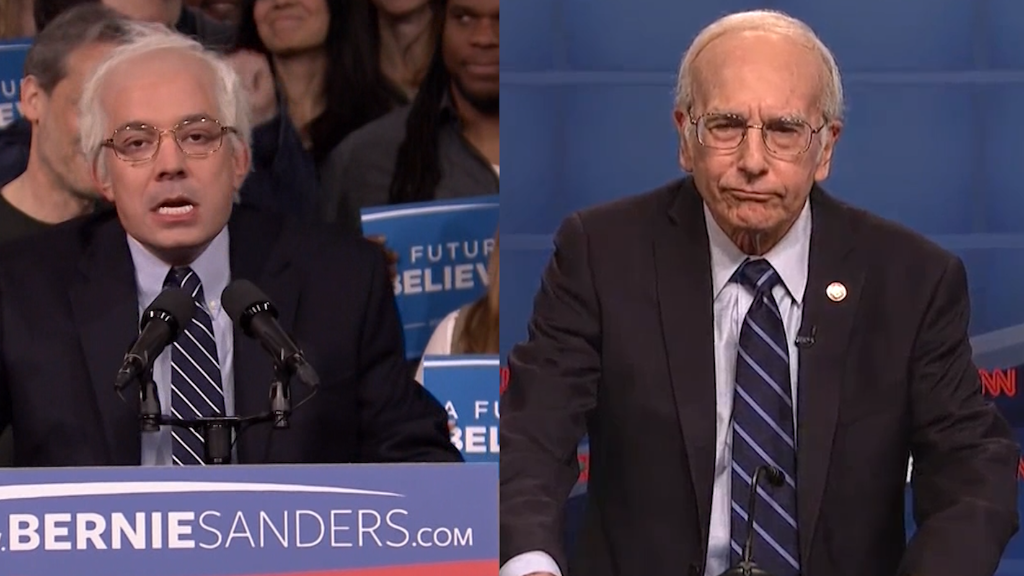 Bernie Sanders has done what many political experts deemed impossible: He's turned the Democratic presidential nomination into a real race.
Now he's getting something that also once felt out of reach: News coverage.
Last week, on the heels of his emphatic win in the New Hampshire primary, Sanders drew more coverage from the network evening newscasts than any other presidential campaign in either party, according to new data analysis from Andrew Tyndall.
Tyndall, the author of the Tyndall Report, monitors news content across CBS, NBC and ABC. His latest research found that the nightly news broadcasts on those three networks gave a total of 11 minutes of coverage to Sanders from February 8-12.
Related: CBS Republican debate: Highest rating this year
That was more than the amount of coverage given to Hillary Clinton (eight minutes), Donald Trump (seven minutes) and Marco Rubio (five minutes). It was also the first week in the current election cycle that network news coverage of Sanders outpaced any other presidential candidate.
Last week's coverage came in the afterglow of his 22-point win over Clinton in New Hampshire, but Sanders has seen his profile rise significantly throughout the first month of the new year
Related: Who does better Bernie impression, Jimmy Fallon or Larry David?
From January 4 to February 12, Sanders' campaign was covered for 32 minutes on the network newscasts -- less than Clinton (36 minutes) and Trump (51 minutes), but more than Ted Cruz (26 minutes) and Rubio (nine minutes).
Tyndall says it means "that Sanders has risen from the obscurity with which his campaign was treated in the second half of 2015. He now has standing as a newsmaker in the second tier of candidates, along with Ted Cruz, Marco Rubio and Jeb Bush."
There's a decent chance you've seen Sanders on television recently even if you don't watch the evening news.
Related: Bernie Sanders and 'SNL' debut 'Bern Your Enthusiasm'
The senator made a cameo on "Saturday Night Live" days before his triumph in New Hampshire, and he followed his primary win with appearances on the "Late Show with Stephen Colbert" and "The View."
It's a stark change for the Sanders campaign, which has been dwarfed in media coverage by Clinton and the boisterous Republican field throughout the presidential race.
In the fall, Tyndall found that Sanders received just two minutes of coverage on the network newscasts between Labor Day and October 7. Over that same period, Clinton was covered for 26 minutes while Vice President Joe Biden -- who ultimately decided not to run -- was covered for six minutes.
Sign up for the Reliable Sources newsletter
The state of the Democratic campaign looks very different today. No longer languishing in obscurity, Sanders finds himself neck-and-neck with Clinton nationwide and in states where she had previously dominated. A new CNN/ORC poll out this week found a virtual tie between the two in Nevada, which will hold its Democratic caucus on Saturday.
The previous CNN/ORC poll in the state, conducted in October, showed Clinton with a 16-point lead.