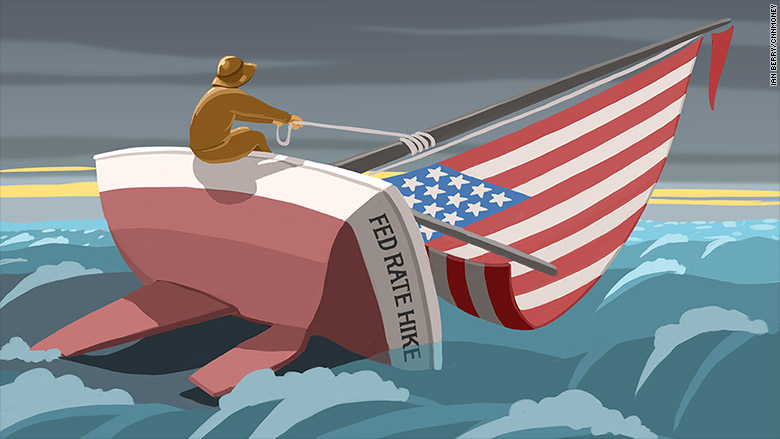 The U.S. Federal Reserve's plans for 2016 are getting rocked.
Plunging global stock markets, rocky oil prices and major losses for U.S. stocks had Fed officials worried as early as January.
"The risks to the forecast for real GDP growth were viewed as tilted a little to the downside," according to minutes from the Fed's two-day meeting on January 27-28.
Just a month earlier, in December, the Fed had raised its key interest rate for the first time in nearly a decade and things were starting to look up for the economy. Fed Chair Janet Yellen and her colleagues even estimated the Fed would raise rates about four times in 2016.
But in January, Fed officials were plenty worried.
They noted that the forecast for inflation -- a key measure for rate hike decisions -- was facing more headwinds. Falling oil prices have held back inflation from rising in the U.S.
The markets rallied after the minutes were released. The comments seemed to signal that it was unlikely the Fed would raise rates in the near term at least. The Dow rose 270 points on Wednesday afternoon.
Investors certainly aren't expecting any -- not one! -- rate hike this year, according to CME Group's tally of fed fund futures.
There's even talk in Washington now that the Fed is considering negative interest rates at its disposal. Japan and several European central banks have pushed rates into negative territory, meaning you pay the bank to deposit money there. It's a strategy meant to promote spending, which drives economic growth.
Related: Market mayhem: central banks may be fueling the fire
Last week, members of Congress asked Yellen if the Fed would consider using negative rates if the U.S. economy started to worsen. Yellen said the Fed was "taking a look" at negative rates as a possible option.
However, New York Fed President William Dudley emphasized last week at a press conference that any talk of negative interest rates in the U.S. is "extraordinarily premature."
Still, after the Fed raised rates in December for the first time in nearly a decade, its bullish bets on 2016 appear to be toning down.
The Fed meets next in mid-March, and investors are betting there's only a 4% chance of a rate hike.