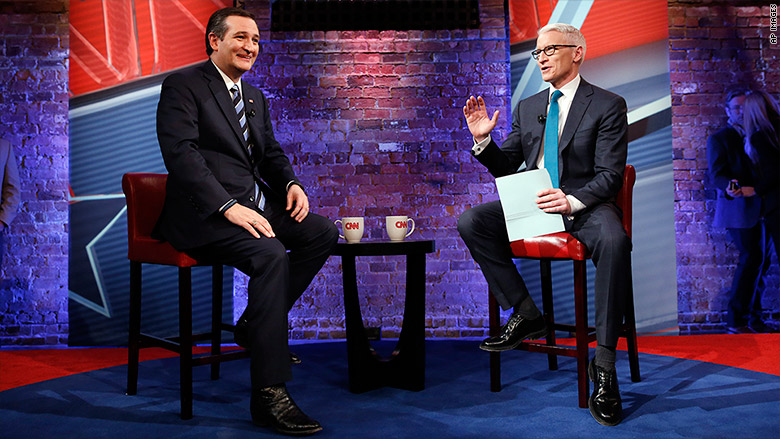 MSNBC and CNN had dueling town halls Wednesday night and MSNBC came in third.
CNN had scheduled a town hall featuring GOP candidates Ben Carson, Ted Cruz and Marco Rubio, so MSNBC scrambled to hold a competing town hall with Donald Trump, usually a reliable ratings magnet.
Between 8 and 9 p.m., when the Trump town hall took place, CNN ranked No. 1 in the category that cable news networks covet -- viewers ages 25 to 54 -- with 629,000 of those viewers. Fox News ranked No. 2 with 373,000. MSNBC, to the surprise of many observers, ranked No. 3 with 341,000.
Among total viewers, Fox's "The O'Reilly Factor" -- which had no special guest and a substitute host, Eric Bolling -- was No. 1 with 2.3 million. CNN followed with 2.06 million and MSNBC had 1.4 million.
MSNBC typically has under 1 million viewers at 8 p.m., so the town hall undoubtedly boosted its audience.
On the other hand, the programming decision might have disappointed people who tune in at 8 p.m. for Chris Hayes' nightly program.
The town hall was moderated by "Morning Joe" co-hosts Joe Scarborough and Mika Brzezinski.
MSNBC's last-minute announcement might have limited the potential audience, as many would-be viewers were likely more familiar with CNN's better-promoted town hall.
Related: Donald Trump says 'phony' WSJ poll a 'Rupert Murdoch hit'
It wasn't the first time this season that an alternative Trump event failed to match the main political event airing elsewhere.
Trump's veterans fundraiser last month drew a decidedly smaller audience than the Fox News debate that aired the same night, which the outspoken billionaire very publicly boycotted.
The town halls have proven to be weaker draws than debates, which have routinely generated ratings that were unheard of in previous election cycles.
But the forums are still able to double or even triple usual cable news viewership.
On Wednesday CNN's town hall continued until 11 p.m. The audience peaked in the 9 p.m. hour, when Rubio answered questions and about 2.5 million people were watching. Overall, CNN won the night, notching a rare win over Fox News.
Related: Cozy Scarborough-Trump relationship?
On Thursday, CNN will air part two of the GOP town hall, featuring Jeb Bush, John Kasich and Trump. The two Democratic presidential hopefuls, Bernie Sanders and Hillary Clinton, will be on MSNBC at the same time.
And next Tuesday, CNN will air another town hall, this time with the Democratic candidates.