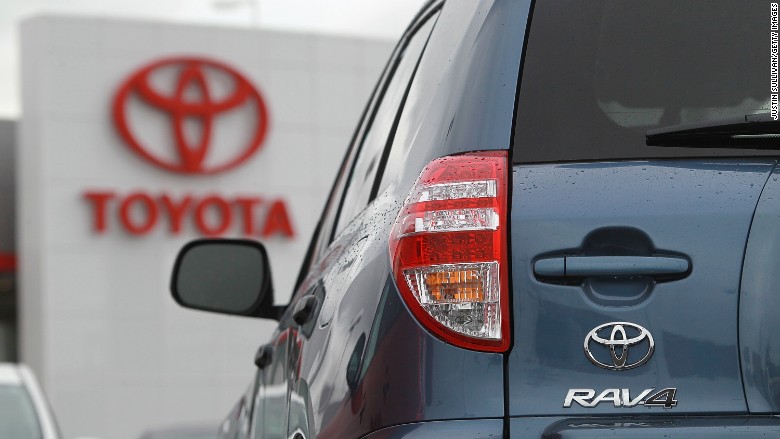 Toyota is recalling about 2.9 million SUVs around the world because of a potential problem with seat belts.
The world's biggest car manufacturer said Thursday that a flaw in its RAV4, RAV4 EV and Vanguard vehicles could cause some rear seat belts to fail in a crash.
North America is the most heavily affected market, with more than 1.3 million recalls, Toyota (TM) spokesman Itsuki Kurosu said in an email to CNN. Hundreds of thousands of SUVs are also being recalled across Europe, China and Japan.
The Japanese company said that it had received reports of two crashes -- one in the U.S. and one in Canada -- in which a rear seat belt had come apart, but that it hadn't been able to determine whether any injuries or fatalities were caused by the failure.
Related: Toyota issues global recall of 6.5 million cars
Toyota said its dealers would fix the problem at no cost to the customer. The procedure involves adding a cover to the metal seat cushion frame that the company says could cut through part of the belt in a head-on crash.
The affected vehicles in Japan were produced between October 2005 and January 2016, and for other countries between July 2005 and August 2014.
The recalls are the latest in a series from Toyota.
Four months ago, the automaker said it was pulling back 6.5 million cars over power window switches that can short circuit and catch fire.
Toyota is also among those affected by defective airbags made by Japanese manufacturer Takata, which have resulted in more than 20 million recalls.
-- Junko Ogura contributed to this report.