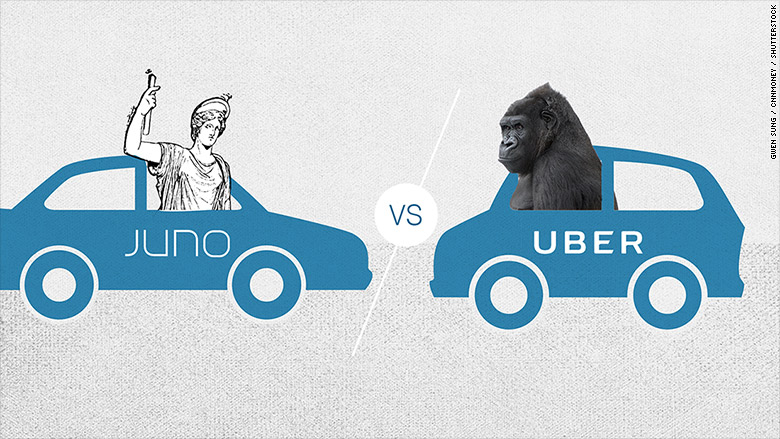 Juno is a stealth new startup that's gearing up to take on Uber with a laser focus on keeping drivers happy.
Juno will give its drivers equity in the company. On top of that, Juno will take a smaller cut off every ride: Just 10% compared to Uber's 20% to 25%.
It's not trying to undercut Uber -- it plans to set its prices in the same ballpark as the competition.
"At the end of the day, people want to ride with a happy driver -- and Juno drivers are happier," Juno cofounder Talmon Marco told CNNMoney.
Its drivers, who are contract workers, will be the creme of the crop: Juno will require that drivers have a minimum 4.70 rating from Uber and other services, said Marco.
Right now, they're only accepting drivers who work at other ridehailing firms; they won't have to work exclusively for Juno.
Juno is slated to launch in its first market, New York City, this spring. It already has "thousands" of drivers signed up to work with the company.
Juno has a big battle ahead. It is entering the market seven years after Uber, which is now the most valuable privately-held company in the world.
"Uber is the 800-pound gorilla," said Marco. Juno, on the other hand, is also the name of the ancient Roman goddess known to be a protector. In this case, protector of drivers.
Uber has raised more than $8 billion in funding from investors and operates in 380 cities around the world. Competitor Lyft has raised $2 billion in funding, operates in more than 200 cities and has formed an international alliance with other Uber rivals.
Marco said that Juno has raised "eight figures," financing that comes from friends, family and the founders' personal money. Marco and his cofounders -- who are all Israeli -- aren't exactly green: They're the team behind messaging app Viber which they sold to Rakuten in 2014 for $900 million.
Related: Facebook is eying ridesharing
According to Marco, they set out to explore the ridehailing space in 2014 after hearing "a lot of noise" that drivers weren't happy driving with Uber.
It's not exactly a revelation: Drivers have publicly aired their grievances, from protesting recent rate cuts to fighting to be reimbursed for expenses, like mileage and toll fees.
Marco said that's why he and his cofounders realized there was a big opportunity to build a driver-friendly business, one where drivers are actually partners in the company's success.
"If [Uber] were to go public tomorrow, the drivers get nothing," said Marco. "Our equity structure is extremely important."
Marco said that Juno plans to issue private shares of the company to its drivers on a quarterly basis.
Related: Uber losing $1 billion a year in China
By 2026, drivers will own 50% of all founding shares in the company. That means drivers will be equal partners with the cofounders of Juno and will get to benefit if and when the company sells or goes public. As Junos' founders get diluted in fundraising events, drivers will too.
Marco said that just because Juno is late to the ridehailing race to the top doesn't mean the game is over.
"People thought the market was saturated when Google started doing search. People probably thought the same of Facebook with MySpace," said Marco. "There are a lot of advantages to coming second to the party. You can learn from past mistakes and start with a clean slate."
For one, Juno is embracing the Taxi and Limousine Commission.
"A lot of people feel that the TLC, with all of its regulations, is making it difficult to operate in the city. It's completely opposite. The rules are clear. We have no problem with regulators," said Marco.
Editor's Note: This story has been updated to reflect that Juno drivers would own 50% of all founding shares by 2026, not all outstanding shares.