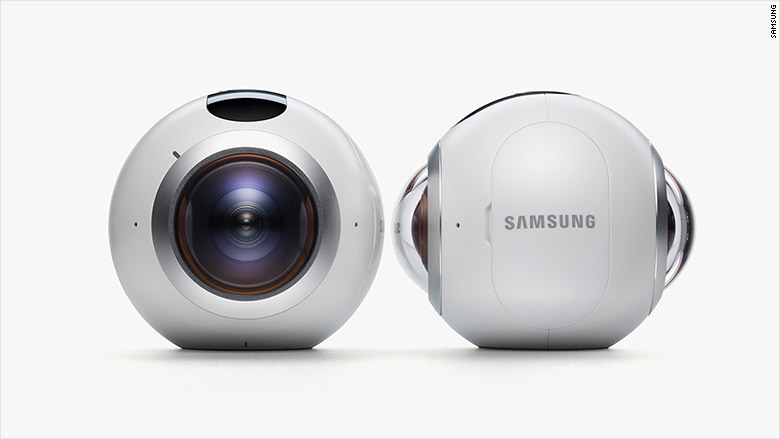 There's no point in owning a virtual reality headset if there's nothing to watch or play.
Samsung -- which just launched its first consumer VR device -- wants to make sure that's never a problem.
On Sunday, the company showed off its first-ever consumer camera capable of taking 360-degree photos and videos, aptly named the Gear 360.
The Gear 360 is a small, white, orb-like gadget that fits in the palm of the hand. The camera weighs a little less than half a pound.
Related: Samsung shows off new Galaxy S7 and S7 Edge
There are two lenses that can capture 195-degrees of vision in high-definition. Images and videos are stored to a microSD card (up to 128 GB in size) and can be transferred over Wi-Fi to a Samsung Galaxy phone to be stitched together.
The final product can be shared online (YouTube and Facebook (FB) now support 360-degree videos), or viewed with a Gear VR headset.
The settings also seem easy to use (On, Off, Picture mode, Video mode, Record) and I like the fact that I can see a preview of the images before shooting.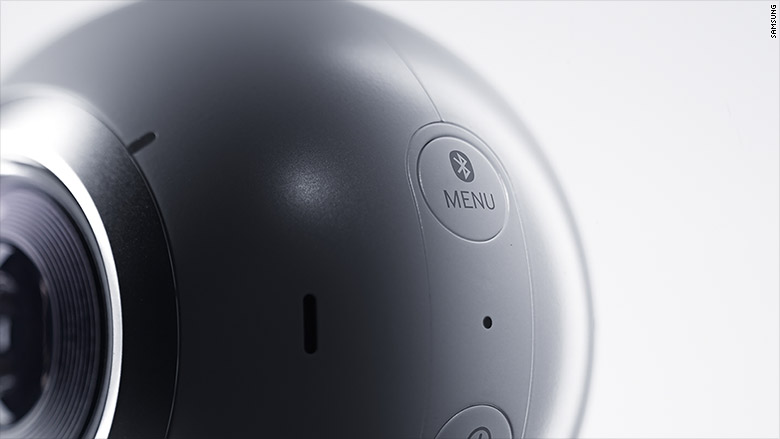 Although VR has been touted by many as the next big thing, most industry analysts believe it will take about 10 years for the medium to catch on.
In a press briefing with reporters last week, Samsung executives noted that many video industries in the past "really came to life with user-generated content." Think home movies on VHS or YouTube videos.
Selling the Gear 360, then, is a way for Samsung to help spur the growth of VR and 360-degree video entertainment. The company even invited Facebook (FB) CEO Mark Zuckerberg on stage during its presentation to help promote the VR partnership between the two firms.
But ultimately, the Gear 360 is mainly another way to help Samsung sell more of its flagship smartphones -- specifically the Galaxy S7 and S7 Edge, which also launched on Sunday.
The Gear 360 is similar to other point and shoot 360-degree cameras on the market, including the Ricoh Theta S and Bublcam.
Samsung expects to start selling the Gear 360 in the second quarter. No details yet on pricing.